The harvest was complete, and the town of Prosper celebrated its brimming granaries heartily and with due excess. The autumn breeze carried the smell of meat and ale, jostled the colored lanterns and encouraged the perspiring townsfolk to greater feats of music and dance.
Yet, if one were to leave the warmth behind and venture into the sodden fields, they would hear the low lamentations. Atop the the hill, with ragged limbs turning wearily, stood the old mill, bemoaning the secrets that it hid inside, and the regrettable future it bore for Prosper.
I decided to go pedal-to-the-metal Halloween with this one and its upcoming buddy map, the Pumpkin Hill. Together, they depict a ramshackle windmill surrounded by pumpkins on an orange hill.
It seems obvious to me that something dark is festering in here, but what? A solitary lycanthrope or vampire? Is it the secret lab of a scientist obsessed with life and death? Perhaps you would use this as the centrepiece for our Harvest Horror pack from last year: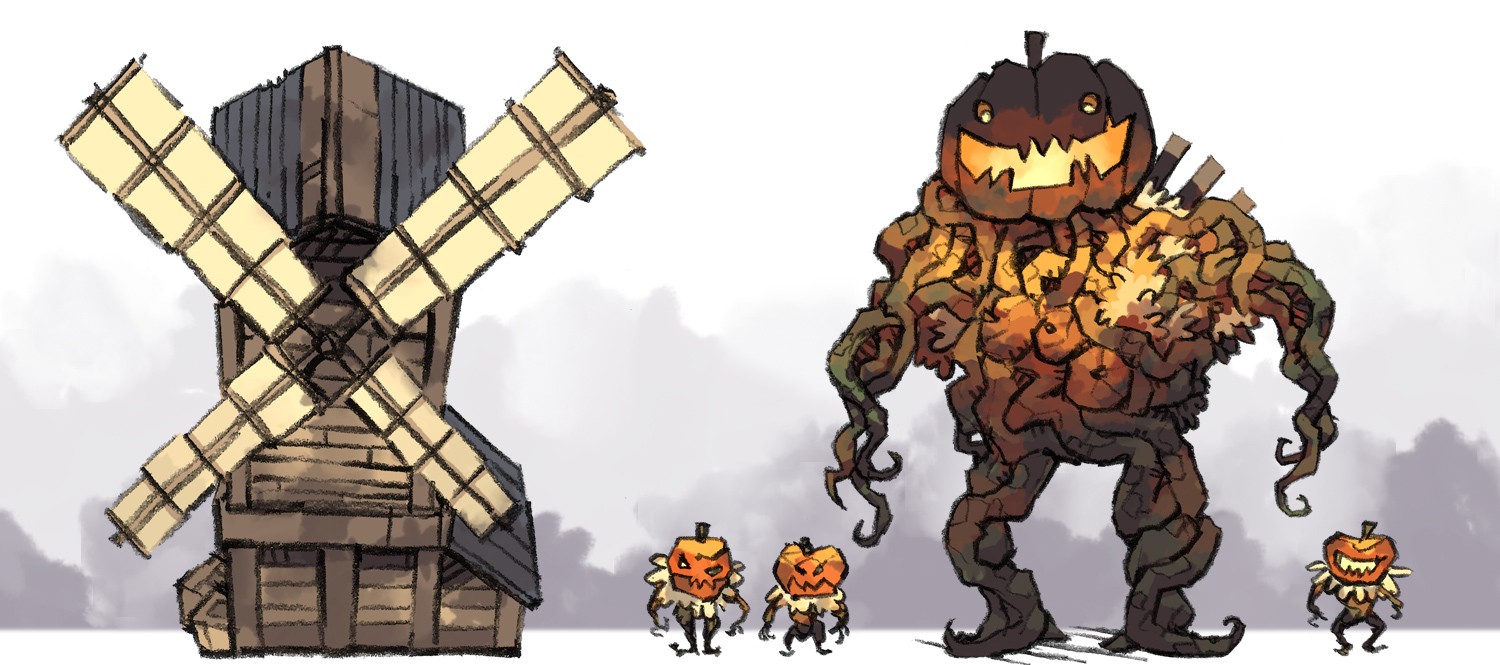 I want to hear what comes to your mind! Please share them in the comments, and let's crowdsource a killer Halloween one-shot together. 🙂
Oh, and be sure to check out the alternate PDF, where I've put together a five page printout with immersive surroundings. I think it's nice to have the option of that or the stacking layers, and I don't know why it took me so long to start doing it.
Before you scroll to the downloads at the bottom, make sure you check out Troy's specially crafted encounter below!
Devil's Mill Map Downloads
You can check out with the items below for free, and then we will send them to your email address for download. If you'd like to support us, please do check out our Patreon!
For exclusive map variants and even the PSD files, consider joining the amazing community that makes these maps possible:
The Devil's Mill is free to download thanks to Patrons such as:
This work is licensed under a Creative Commons Attribution-NonCommercial 4.0 International License, thanks to our generous supporters. If you would like to use this map commercially, please contact me 🙂