The waves have eroded this rocky coast to create a small group of rock pools and a flat stone overlooking them. It's a popular spot for meditation, and for giant crab attacks.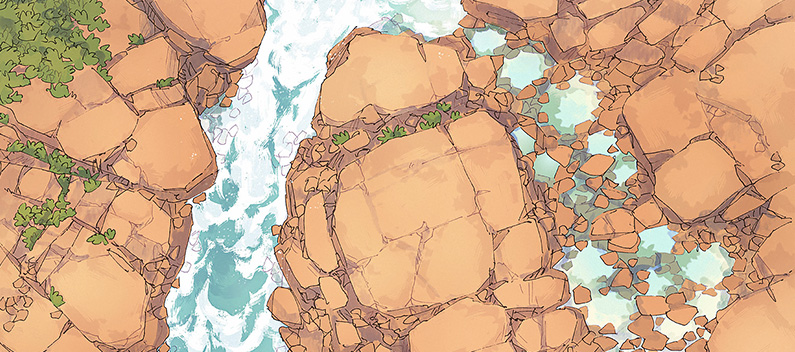 This map is inspired by my own Australian backyard and some of the spots I like to visit in the summer. I'm sure that scrambling around on these rocks as a kid has played a significant role in forming my love of role-playing and adventure, and I still get out to do it sometimes!
As a battle map, it poses a nice challenge in crossing the channel on the left, a decently sized "mosh pit" in the center, and a bit of difficult terrain on the right. My hope is that the map itself will provide some of the fun and opposition, and not just the monsters.
I've drawn the map, but there's plenty of work left for you to do, GMs! How deep is that channel? Do steel-clad fighters float? What sort of nasties might be here to put up a fight? I'd love to hear your ideas in the comments!
This map's variants are by rootyful, and include a rainy version, a settled version, and two downright apocalyptic versions! We hope you'll enjoy…
Subscribe for More
We put out new content like this almost every week! If you'd like to keep up, here are all the ways that you can do it, be it on social media or with our email newsletter:
Download the Rock Pools battle maps
You can download the digital files below, where you'll also get an opportunity to support me for my work. Thank you! It's thanks to you that I can keep making these maps and assets. 🙂
We will deliver the download links to your email address. You can choose which pack you would like below.
We can offer this base pack for free thanks to our generous Patreon supporters
For exclusive map variants and even the PSD files, consider joining the amazing community that makes these maps possible: