A versatile collection of roof "chunks" that you can assemble into any sort of tiled rooftop you might need!
Skip to the downloads…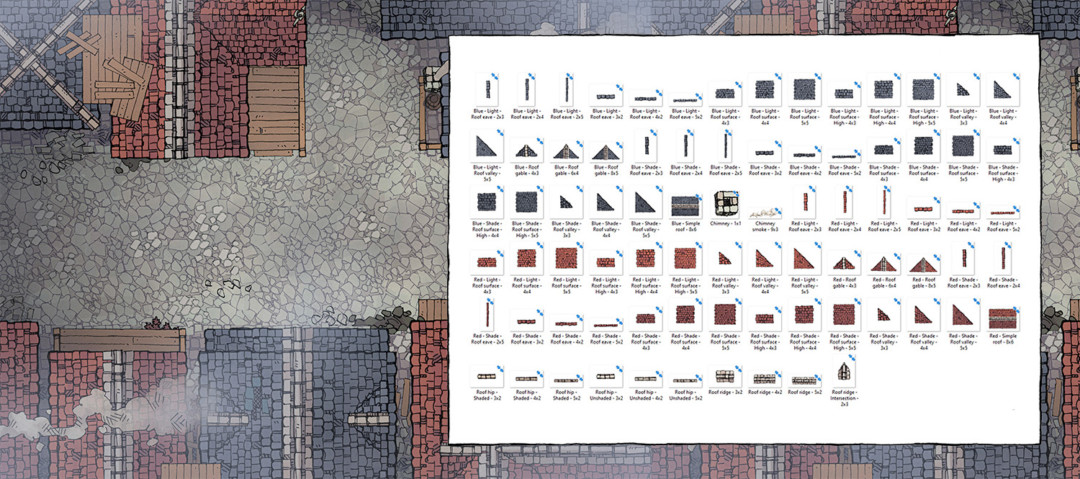 This asset pack is one I've been mulling over for a long time, wondering how best to structure it and balance it between versatility and simplicity. I hope I've found that balance.
These assets are broken down into these categories…
Surfaces, in various sizes and even with upper and lower foreshortening.
Valleys, for the intersection between two perpendicular surfaces.
Eaves, in two orientations and multiple sizes.
Ridges and hips, for the peaks of your rooftops.
There are also pre-assembled gables and simple rooftop configurations, as well as a chimney and some friendly white smoke.
Please take these for a spin and let me know what you think! I've made a few demo buildings for the Patreon rewards and found it to be like a fun jig-saw, but I'm just one perspective.
And tell me what you think in the comments – would you like to see more of these in thatch, wood, and more? Now that I've spent the time to figure out how best to break them down, creating more should be a breeze.
Have fun with these, and please share your creations with me if you'd like to! You can find my socials below. I'm looking forward to seeing what you've got. 🙂
---
Subscribe
Here are all the ways that you can keep up to date with our new content, be it on social media or with our email newsletter:
---
Modular Rooftop Asset Downloads
You can download the high-res printable and digital files below. Thank you for your support! It's thanks to you that I can keep making these maps and assets. 🙂
We will deliver the download links to your email address, which include printable PDFs and digital files. You can choose which pack you would like below.
These rooftop map assets are free to download thanks to Patrons such as: