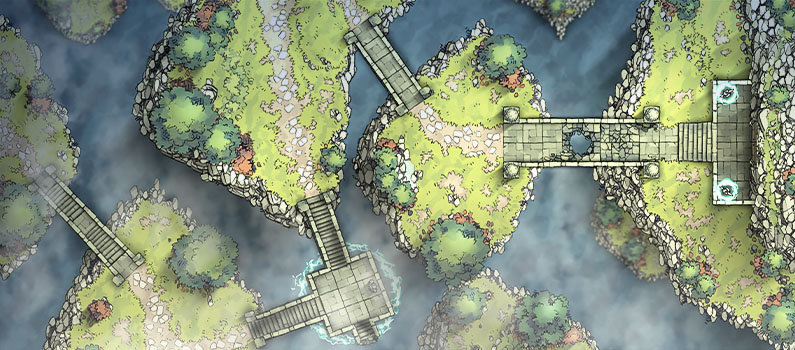 This Community Gallery submission is from Jon (uchideshi34), an active member of our Patreon Discord community who has generously allowed me to share some of his custom maps with you.
Jon's skill in laying out a natural and interesting map is to be commended, and each one is also peppered with an impressive level of detail – but not too much to confuse things when the encounter begins.
We can all learn something from these. At the very least, we can download and enjoy them! You'll find full-res downloads included at the end of the article.
Flying Islands
These maps depict a series of floating islands leading to a grand dungeon. For me, it stirs up inspiring memories of Final Fantasy III, Twilight Princess and Castle in the Sky.
Who slept in those beds, and what is the source of those electrical magicks? More importantly, what compelling reason can we give our players to fight their way up here and kick down its doors? 😉
Loreto Island
Jon based this map off the real-world Isola Di Loreto in Italy. To me, it looks like the mansion of a wealthy family, or perhaps a guild hall. There are three distinct levels:
Ground floor. A dining hall, a room like a chapel, a kitchen, and two studies.
First floor. Living quarters with several bedrooms; nine beds in all.
Basement. Plenty of storage space and a modest crypt.
The whole map looks like a lovely, secure place to live. What reason might your players have to fight upon it? Perhaps its location is strategic, and they must repel an invading force? Maybe pirates have taken the resident hostage and made themselves at home? Or, Loreto Island might be the perfect player character base, gifted to them by a thankful lord?
Forgotten Pool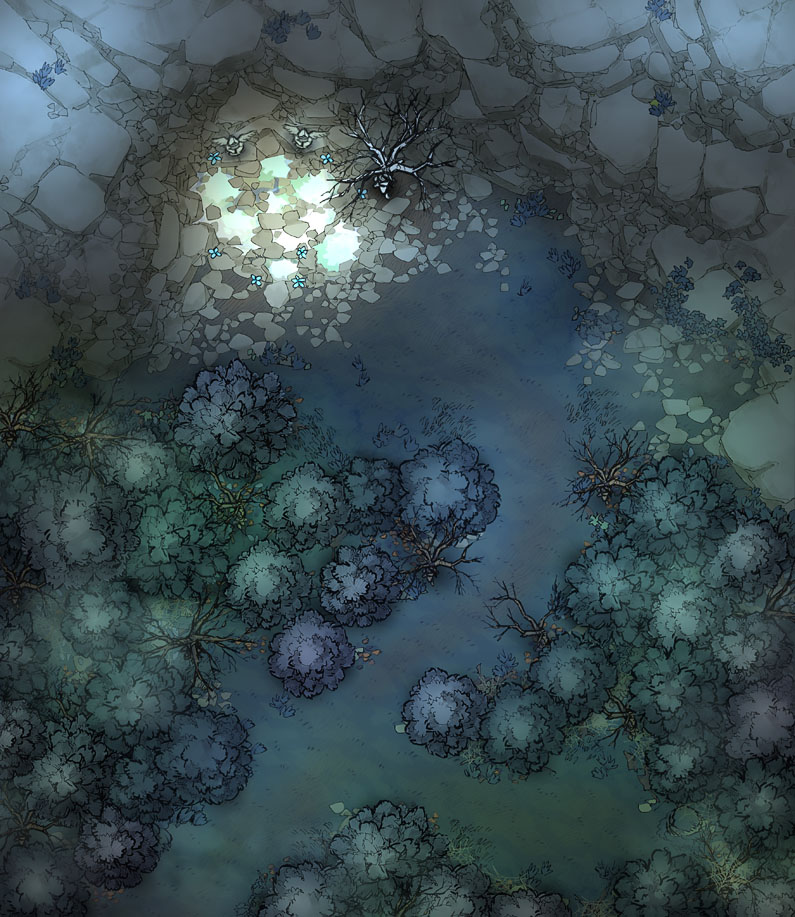 This moody map is a masterful demonstration of our new forest assets, and depicts a forested path leading to a cluster of sparkling pools. What properties might that pearlescent water have, and what fel creatures might be lurking nearby? I'll leave that to you…
Roadside Ruins
Relics of the past litter the landscape as ruins and forgotten heaps of stonework. Occasionally, the shape of a building remains, or a shrine, or an entire game board! These maps might serve as a campsite along a journey, or as a curious destination all by themselves.
---
What do you make of Jon's maps? We would love to hear your ideas in the comments below, even if it's just a "thank you" to the creator!
Downloads
Jon has generously provided the high-res versions for your enjoyment! You can find them on our Google Drive by clicking the button below:
Map Asset Downloads
Interested in the map assets that Jon used to create these maps? You can find them listed here:
Subscribe for More
Would you like to be notified when we publish something like this to our blog? If so, you can follow us on on of the channels below…