Fans of Dungeondraft, I've got big news! Our long-awaited Dungeondraft Packs update is live.
If this is your first time hearing of "Dungeondraft," it's simply a popular map-making software that we try and keep up with, and an alternative to image editors and other tools. If you're interested, check out my Dungeondraft Beginner's Guide.
What's new?
Our initial Dungeondraft Packs were kindly contributed by Jacob @Valkyrie and, if you have any 2-Minute Tabletop content in your Dungeondraft software at the time of this article's publishing, this is what's on your hard drive.
This new update contains updated old packs in addition to brand new packs, and is all thanks to the amazing efforts of David Wilson, better known as one of our resident token artists. You'll know him well if you frequent our Patreon Discord server!
Dungeondraft itself has come a long way since we created the old packs more than a year ago, and it's opened up more possibilities for our assets. These new packs are altogether better optimized, better organized, and easier to use.
Though this is undoubtedly a major update, it is not yet complete! You will still find legacy packs here and there, and some asset packs still lack any Dungeondraft content. It's something of a never-ending job, but we are working on it! Check out our list of Dungeondraft packs listed by release date if you are waiting for a particular pack or determined to stay up to date. More on that later…
Where can I get them?
Looking for new packs? Just jump into our Dungeondraft Asset Packs gallery and take your pick. I recommend sorting by latest if you were previously up to date. If it's your first time here, please go ahead and try a few for free! When you get to the downloads page you will find them listed as "Dungeondraft Packs."
Already bought our packs? Jump over to your Downloads page and grab everything labeled "Dungeondraft Pack" – I recommend hitting Ctrl+F to find them quickly. Dungeondraft Packs are no longer contained within the "Master ZIPs," but will be packaged in this separate ZIP file.

Didn't make an account when you made your order? That's okay! If you make a new account today, all of your previous orders made with the same email address will be automatically linked to it. If you'd like to forgo an account and would just like an updated downloads email, please send us your order number and we'll send you a new email as soon as we can.
Proud owner of an Everything Pack? All you need to grab from your Downloads page are the handful of Volumes labeled as "Dungeondraft Packs," as these contain the whole Dungeondraft collection between them. In the future, the current Volume (currently Volume 7, if you purchased your Everything Pack in the year 2021) will be updated every time we post new content.

Please note: We currently have an automatic process running that is working on adding Dungeondraft packs to all of your previous purchases, and it's possible that it hasn't updated your downloads yet to include these new packs to your downloads list. If you'd like to speed things along, please feel free to contact us and ask for your Dungeondraft Packs to be manually updated. Thank you for your patience!
How do I install them?
Are you just starting out with Dungeondraft, or aren't yet familiar with managing an asset collection? Please check out our Beginner's Guide to Dungeondraft, which contains everything you need to know.
However, if you have an existing 2-Minute Tabletop collection, I highly recommend replacing it with a fresh install of our new packs. The new packs are not designed to completely replace the old ones, and merely merging them in will lead to a lot of duplicate packs.
Of course, you probably have old maps depending on those assets! For this reason I don't recommend deleting your old collection, but archiving it instead. Dungeondraft always looks to the same file path to find your asset packs, allowing you to simply append "Archive" to the end of it to sever the connection.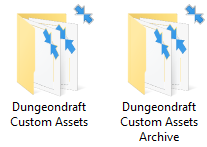 You can then create a fresh file full of fresh assets and, should you need the legacy assets again, you can swap it out for the archived file.
That wraps up our Dungeondraft update. Please let me know if you have any questions in the comments below.
I also want to express my thanks again to Jacob for creating the legacy assets, and to David for creating the new packs! Without their help, I simply wouldn't have had the time to put these together.
We hope these assets serve you well, and we can't wait to see what you make with them! Have fun.
Subscribe for More
Here are all the ways that you can keep up to date with our new content, be it on social media or with our email newsletter:
Downloads
You can download the packs featured in this post here, where you'll also get an opportunity to support me for my work. Thank you! It's thanks to you that I can keep making these maps and assets. 🙂
We will deliver the download links to your email address. You can choose which pack you would like below.