A vibrant, thatch-roofed cabin puffing white smoke from its chimney… And yet something feels sinister.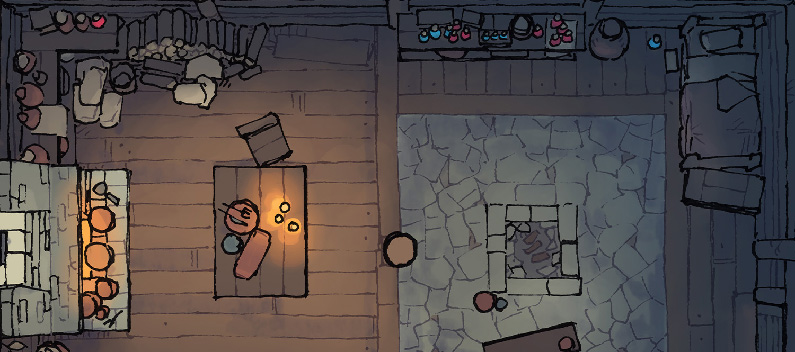 Congratulations, you've passed your Insight check! Yes, despite its country charm, this cabin sports an optional secret basement containing an impressive pile of bones.
I made this map based on a friend's idea, and that concept involves a cellar door with a magical lock. When a certain key is turned a secret entrance will appear in the building's stone foundation 20 feet to the left of the cellar. Alternatively (I only thought of this mid-drawing) you might utilize a Howl's Moving Castle sort of magic cellar that opens to two different basements – I'll leave it up to you!
Of course, this map could just as easily be the altogether mundane home of an altogether normal farmer. 😉
I've provided the map, and now it's up to you to come up with a story for it! We'd love to hear about what comes to your mind in the comments below.
The expanded pack also contains 62 furniture and skeleton assets plucked from the basic cabin, plus three distinct map variants. Oh, and they all have light and dark variants too!
Subscribe for More
We put out new content like this almost every week! If you'd like to keep up, here are all the ways that you can do it, be it on social media or with our email newsletter:
Download the Sinister Cabin
You can download the digital files below, where you'll also get an opportunity to support me for my work. Thank you! It's thanks to you that I can keep making these maps and assets. 🙂
We will deliver the download links to your email address. You can choose which pack you would like below.
We can offer this base pack for free thanks to our generous Patreon supporters
For exclusive map variants and even the PSD files, consider joining the amazing community that makes these maps possible: