Emerald waters surround a small island and its tall palm trees, with nothing else in sight but a flat horizon.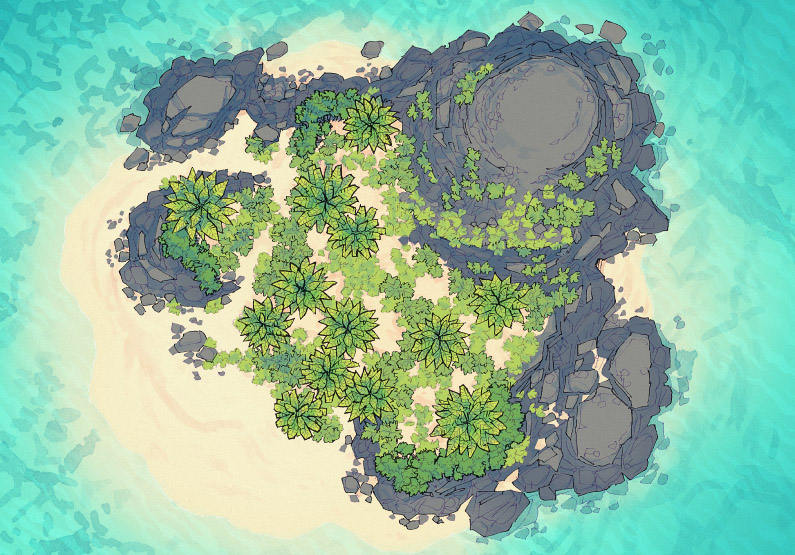 Welcome to my desert island, inspired by such stories as Lord of the Flies, Cast Away, and so many others. I used to be obsessed with stories and games like these when I was a kid, and the thought still jolts my imagination as an adult.
As a battle map I imagined this as a fun place to shipwreck, a place to seek out buried treasure, or perhaps you could craft a sort of Eventide experience from Breath of the Wild. You might drop a tavern down as a stopover for sailors. If I were a player, I would be tempted to build a base of my own here! The possibilities are endless — just take a look at some of the variants that Rootyful has cooked up below!
Have you got any other encounter or worldbuilding ideas? I'd love to hear them in the comments! As a community I'm sure that we could come up with quite a list. 🙂
Subscribe for More
We put out new content like this almost every week! If you'd like to keep up, here are all the ways that you can do it, be it on social media or with our email newsletter:
Download the Desert Island battle map
You can download the digital files below, where you'll also get an opportunity to support me for my work. Thank you! It's thanks to you that I can keep making these maps and assets. 🙂
We will deliver the download links to your email address. You can choose which pack you would like below.
We can offer this base pack for free thanks to our generous Patreon supporters
For exclusive map variants and even the PSD files, consider joining the amazing community that makes these maps possible: