THOOM! The ocean swell crashes into the sea-caves beneath your feet and jets through the blowholes before you, drenching you in a briny shower and dressing you instantaneously in an outfit of seaweed.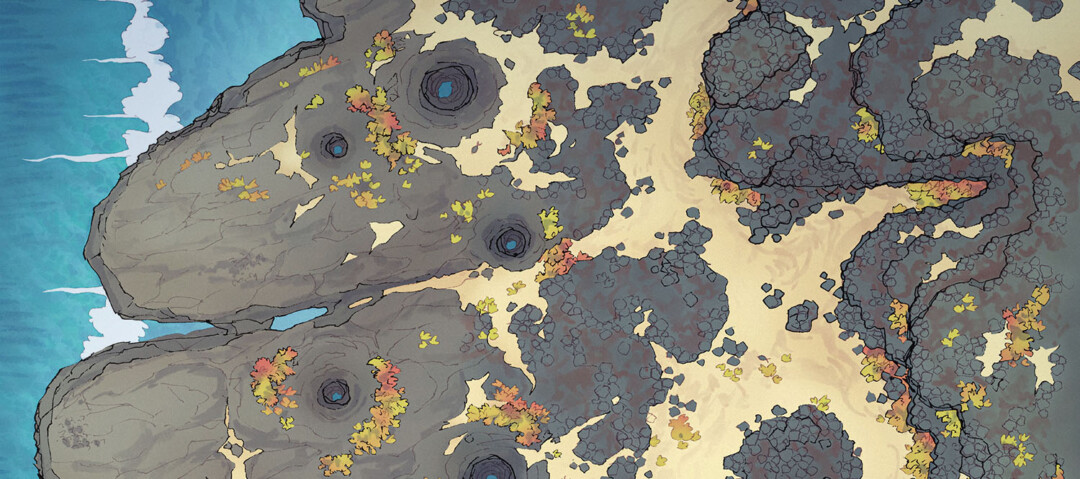 Crab Rock began as a relatively simple coastal battle field for our Colossal Crab, but along the way we added small but significant elements inspired by the coastline natural to my corner of Australia.
Chief among these elements are the blowholes: ocean-fed geysers that might explode powerfully in a column of seawater at the end of each round. Not only do they make for natural land mines, but they are great delivery systems for sahuagin reinforcements!
What sort of story comes to your mind? Can you think of a compelling reason for adventurers to visit this spot? I'd love for you to share your ideas with us below, so please leave a comment!
Subscribe for More
We put out new content like this almost every week! If you'd like to keep up, here are all the ways that you can do it, be it on social media or with our email newsletter:
Download the Crab Rock battle map
You can download the digital files below, where you'll also get an opportunity to support me for my work. Thank you! It's thanks to you that I can keep making these maps and assets. 🙂
We will deliver the download links to your email address. You can choose which pack you would like below.
We can offer this base pack for free thanks to our generous Patreon supporters
For exclusive map variants and even the PSD files, consider joining the amazing community that makes these maps possible: