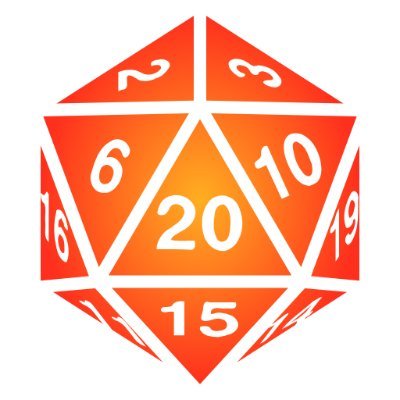 This guide aims to explain how to get started with custom maps, assets, and tokens on a fresh install of the Foundry virtual tabletop.
You can find out more about this powerful virtual tabletop on the Foundry VTT homepage.
---
Managing maps & assets in the Tile Browser
Foundry VTT treats both maps and assets as "tiles" and these are stored in your Tile Browser, accessed from the left-hand toolbar under Tile Controls > Tile Browser.
From this panel you can create directories for tile organization, upload new tiles, and drag-and-drop tiles onto your scene. I recommend creating (at least) directories for battle maps, map assets, and tokens, but you may wish to organize them further into different themes.
I've created more than 200 hand-drawn battle maps, assets, and tokens that are compatible with Foundry VTT. You can click here to browse my gallery, or jump to the appendix item:
A few maps, assets, and tokens to try out.
---
Creating a new battle map scene
Creating an encounter-ready scene is quick and easy with a pre-made battle map. Just follow these steps:

Select the Scene Directory tab in the navigation bar in the top-right of the screen.
Click Create Scene in the bottom-left of the Scene Directory. A scene configuration panel will open.
In this panel, set the Background Image to your desired battle map. You can select an existing one from your Tile Browser or upload a new one.
Set the Width, Height and Grid Size. In most cases, 3220×2240 pixels with a Grid Size of 140 will do.
If these dimensions don't work, please try out Finding a battle map's exact dimensions.
Tweak the other settings to your liking and click Save Changes at the bottom of the panel.
You can navigate to your new scene with the scene select in the top-left of the window, and you can right click this and select Configure to revisit the scene configuration panel.
The battle map you selected should appear in the middle of the background, ready for play!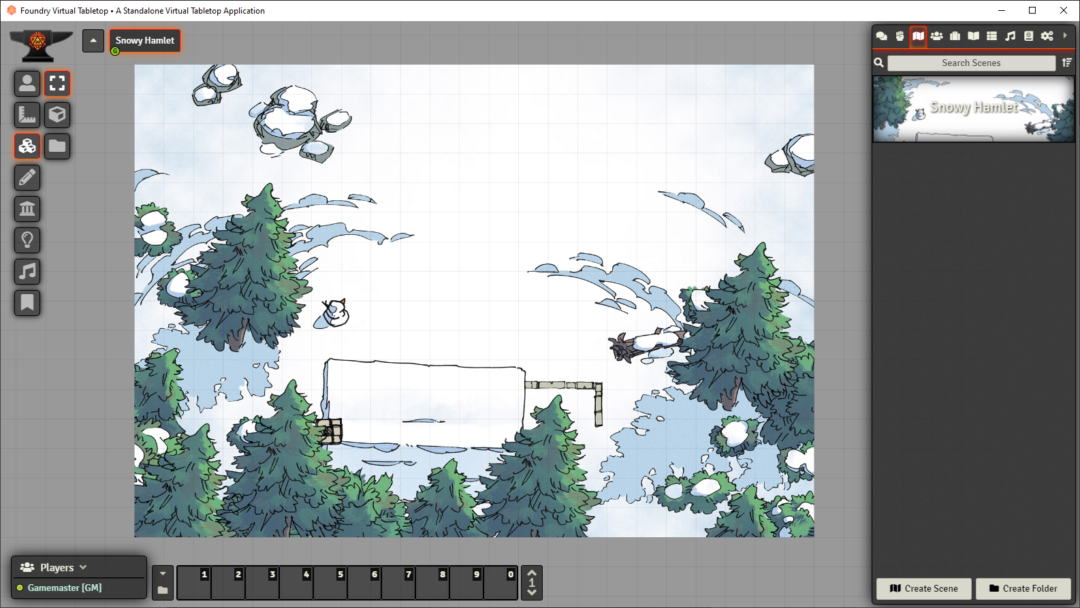 ---
Adding map assets (tile sprites) to your scene
You may wish to add assets to an existing battle map or even create one from scratch. You can do this with your Tile Browser – simply drag and drop them from your Tile Browser into the scene.
It's also possible to drag-and-drop them from your computer into a scene with the help of a module. See the appendix item: Useful Add-on Modules.
When you download my map assets you will find them organized into folders usually labelled as Assets - 300 DPI or something similar. This DPI value is what you should enter into the Asset Grid Size in your Tile Browser in order for assets to be automatically scaled to their intended size.
I recommend using the 70 DPI assets for Foundry VTT, but you might consider the 300 DPI versions if you intend to scale them up. Also, some of my old assets don't have any DPI listed. In this case they are likely 140 or 72 DPI.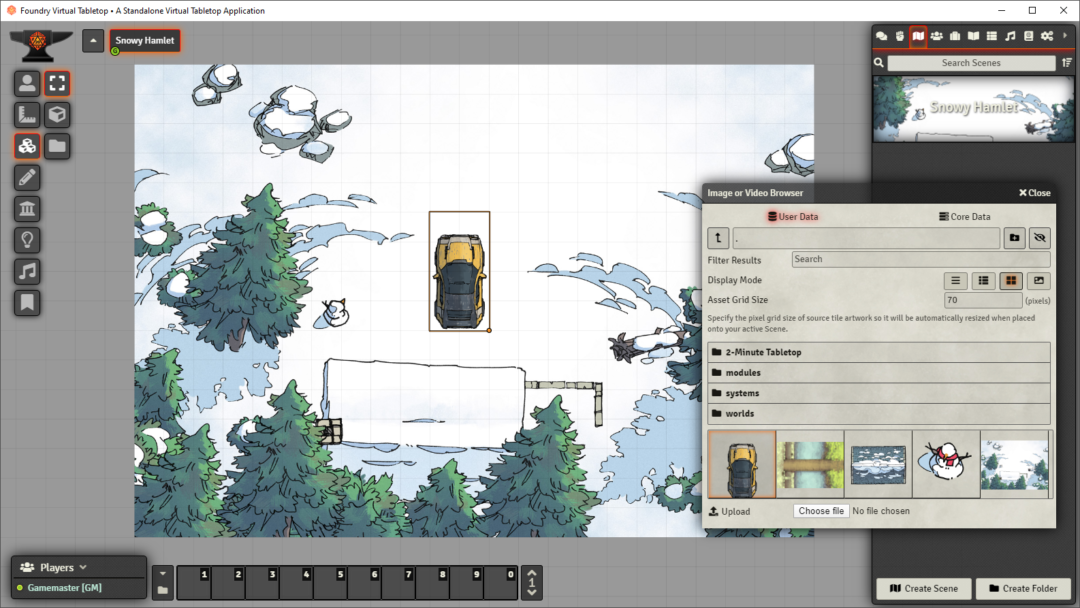 While the Tile Select tool is active, you can lock, hide, or adjust the layer order of your tiles by right-clicking them, and you can set their size and rotation by double-clicking them. For more information please refer to the Foundry VTT Knowledge Base for Tile Sprites.

---
Adding token art to your characters (actors)
The final topic I'd like to cover is how to give your Foundry VTT "actors" token art such as the character tokens you can custom-make in our 2-Minute Token Editor. To do so, follow these steps:
Select the Actors Directory in the navigation bar in the top-right of the screen.
If you haven't already, click Create Actor in the bottom-left of the sidebar panel. A naming panel will open. Name your actor and click Create Actor in the naming panel to confirm. A new actor configuration panel will open.
Click Prototype Token in the top-right of this panel to open the token configuration panel.
In this panel, click Image and then Token Image Path to select the token from your Tile Browser.
Make any other adjustments you want to make and hit Update Token.

In particular, Width, Height, and Scale are useful, as many of our tokens are larger than default 1×1.

Drag-and-drop the token from the Actors Directory sidebar into the scene.
Updating a token in this way will not affect tokens already in your scene. You will need to delete these and add them again.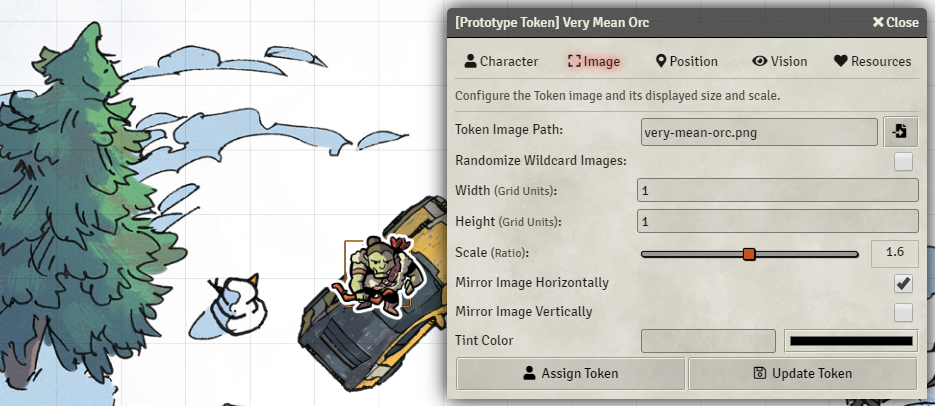 For more information on tokens check out the Foundry VTT Knowledge Base for Tokens.
---
Before You Go
If you enjoy my content, you'll want to be notified when I upload something new. Please come join us on social media, or subscribe to my email newsletter! I aim to make a new map or asset pack once a week. 🙂
For exclusive map variants and even the PSD files, consider joining the amazing community that makes these maps possible:
---
Appendix
Still have questions?
I have gone over the basics in this guide to get you started quickly, but there is still so much more to learn, including fog, dynamic lighting, and other fun tools. Please head over the the official Foundry VTT Knowledge Base to continue your studies!
A few maps, assets, and tokens to try out
Here is my pick of maps, assets, and tokens if you would like to grab a pack of each and follow along… 😉
Useful add-on modules
Drag Upload (Get Over Here!)
"Adds the ability to drag files onto the Foundry canvas to automatically create Tokens, Tiles, Journal Pins, and Ambient Audio."
Forien's Token Rotation
"Provides the ability to rotate Tokens by dragging an 'anchor' around token."
Know of any other useful modules? Please share a link and short description in the comments!
Finding a battle map's exact dimensions
Find the exact values for your scene configuration settings by following these steps:
Right-click your battle map file (on your computer, not in Foundry VTT) and select Properties.
In the Properties window that opens, navigate to the Details tab.
Scroll to Image > Dimensions and use this value to set the Appearance > Width and Height in Foundry VTT.
Scroll to Image > Horizontal Resolution and use this value to set the Grid > Size in Foundry VTT.
---
That's all for now! Please leave any feedback or questions in the comments below and, if you are interested in more of our content, please enjoy some of our recent articles below.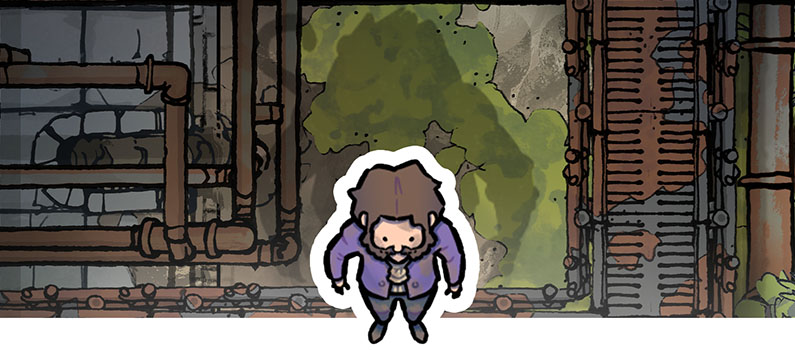 From within the city's forgotten underbelly, a festering darkness lurks… its venomous plot fueled by an army of plague-infected vermin!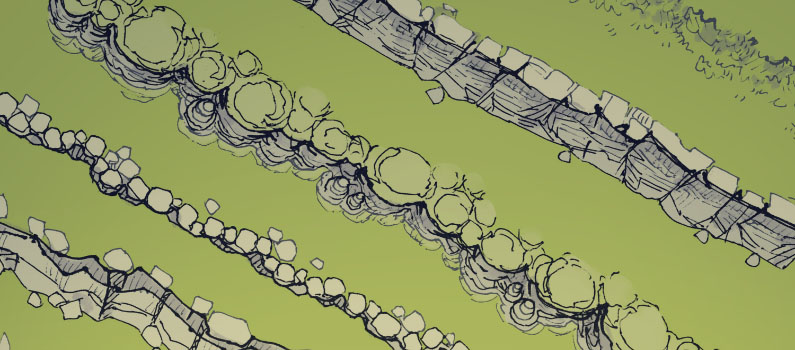 Add stunning verticality and take your campaign to the next level with our collection of 22 seamless natural cliffs, slopes, and wall assets!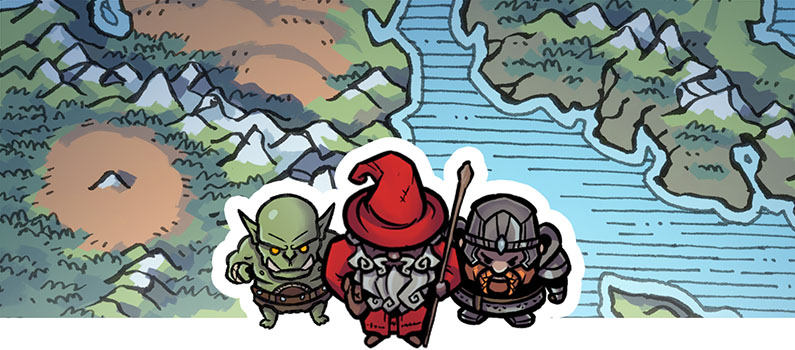 In part 2 of the Scalecrown saga, Garm delves into society beyond the city gates. Uncover the hidden treasures of the outlying realms!