A red torii gate stands over a pond dappled with lily pads and paper lanterns, all of it framed by vibrant bamboo.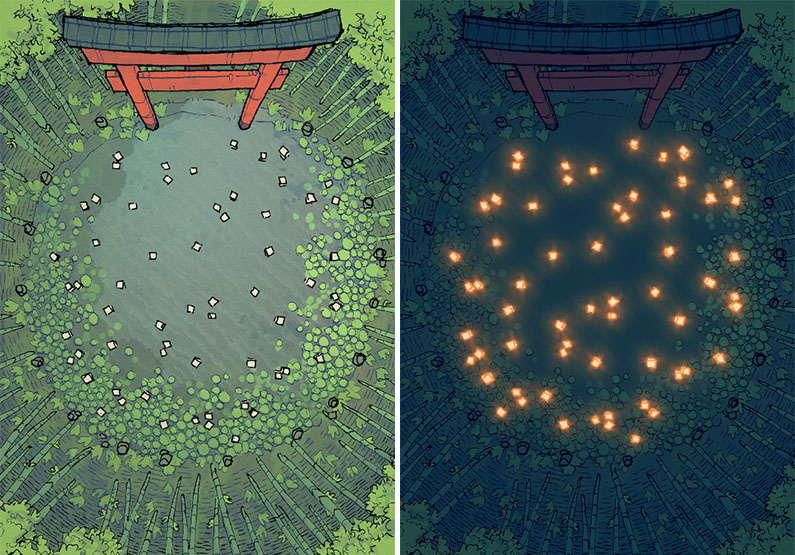 My favorite video game of recent memory is Ghost of Tsushima, a game that celebrates the filmography of Akira Kurosawa, the legendary reputation of the samurai, the natural beauty of Japan, and so many other things that I love dearly.
I took many visual notes as I played through it, and some of my favorite scenes were from the questline that saw you to track down and face a series of samurai in dramatic 1v1 duels. These duels took place in simple, obstacle-free arenas, and yet each arena was decorated gorgeously. The result was always a deeply atmospheric experience, and I wanted to try and do the same thing for the tabletop experience.
Realistically, not every battle utilizes hazards, difficult terrain, line of site, and all the other tools in your Game Master toolbox! Every now and then you might opt for a dramatic duel on even ground. ⚔
What sort of encounters come to your mind? It might be the dramatic clash between two blades that I mentioned. Perhaps a "wave defense" style encounter with assailants hurtling out of the bamboo. Maybe this pool is the home of a peaceful great fairy who only wants to upgrade your equipment? I'd love to hear about the encounters you get up to. 🙂
Subscribe for More
We put out new content like this almost every week! If you'd like to keep up, here are all the ways that you can do it, be it on social media or with our email newsletter:
Download the Bamboo Glade battle map
You can download the digital files below, where you'll also get an opportunity to support me for my work. Thank you! It's thanks to you that I can keep making these maps and assets. 🙂
We will deliver the download links to your email address. You can choose which pack you would like below.
We can offer this base pack for free thanks to our generous Patreon supporters
For exclusive map variants and even the PSD files, consider joining the amazing community that makes these maps possible: