Vincent has brought Crunkle's Wizarding School Grand Staircase half way into the third dimension, and was kind enough to share! You can follow Vincent for more TTRPG arts and crafts on Instagram at @vynx_
(Click on the images to zoom in)
Hi! I'm Vincent from Montréal Canada!
I am a long time fan of Ross' content at 2-Minute Tabletop and also a fan of the great community forged around his content.
Last weekend I ran my first LIVE game since the "You-Know-What-Demic" started. Before that, I played exclusively live sessions with friends around my tabletop screen, but we've been converting to full remote games for the past two and a half years. The long awaited return to live play was long overdue.
For this live one-shot, I was in charge of introducing D&D to two new players, the girlfriends of my regular players. They decided they wanted to play a Harry Potter themed game. I gladly accepted the challenge and went all out to try to impress our new players the best I could.
Today, I want to share with the 2-Minute Tabletop community a part of what I've assembled.
Here is my 2.5D Grand Staircase map I made for my climatic set piece…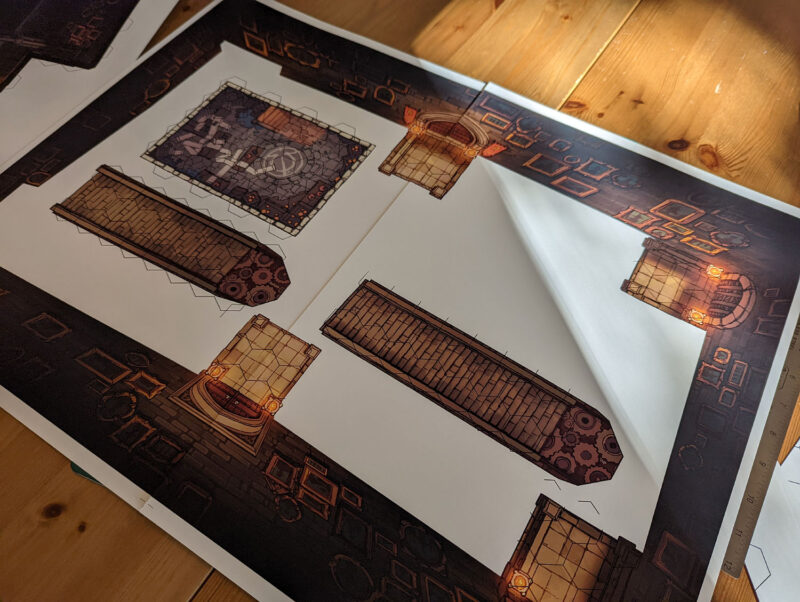 This is by no means a complete step-by-step guide, but I am sharing with you a series of photos I took while working on this map.
I used the Wizarding School Grand Staircase assets and printed them out on my Canon Pro-100. I then glued it all onto black foam board and carefully cut everything out. I planned to have everything fit in a stack of 4 layers of foam board to make room for 2 fully rotating stairs sandwiched in the middle layer.
For the rotating part, I used aluminum screw posts found at a local craft store and padded each side of my moving part with 4 round sticky furniture felts sold for wood floor protection. I also lined the padded zone on the opposite side with self-adhesive plastic film to minimize the friction of the pads on the matte paper. Everything worked like a charm!
I hope you like my build and that it inspires you to create your own 2.5D map and share it with us! My old and new players were amazed by this map, and it was well worth all the effort to make our return to live play a huge success!
– Vincent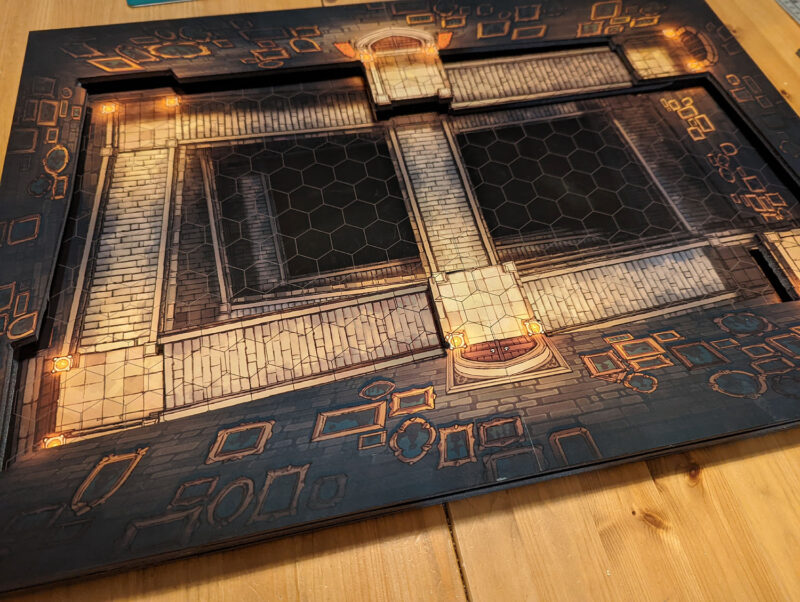 Map & Asset Downloads
We hope that this gallery has inspired you, and perhaps given you a few ideas of your own! If you would like to download this very map you can find it below, and you can find many more on our Map Gallery.
Subscribe
We put out new content like this almost every week! If you'd like to keep up, here are all the ways that you can do it, be it on social media or with our email newsletter: