Two deliberately scarce map tiles for you to use as-is, or customized with the Forest Tokens pack!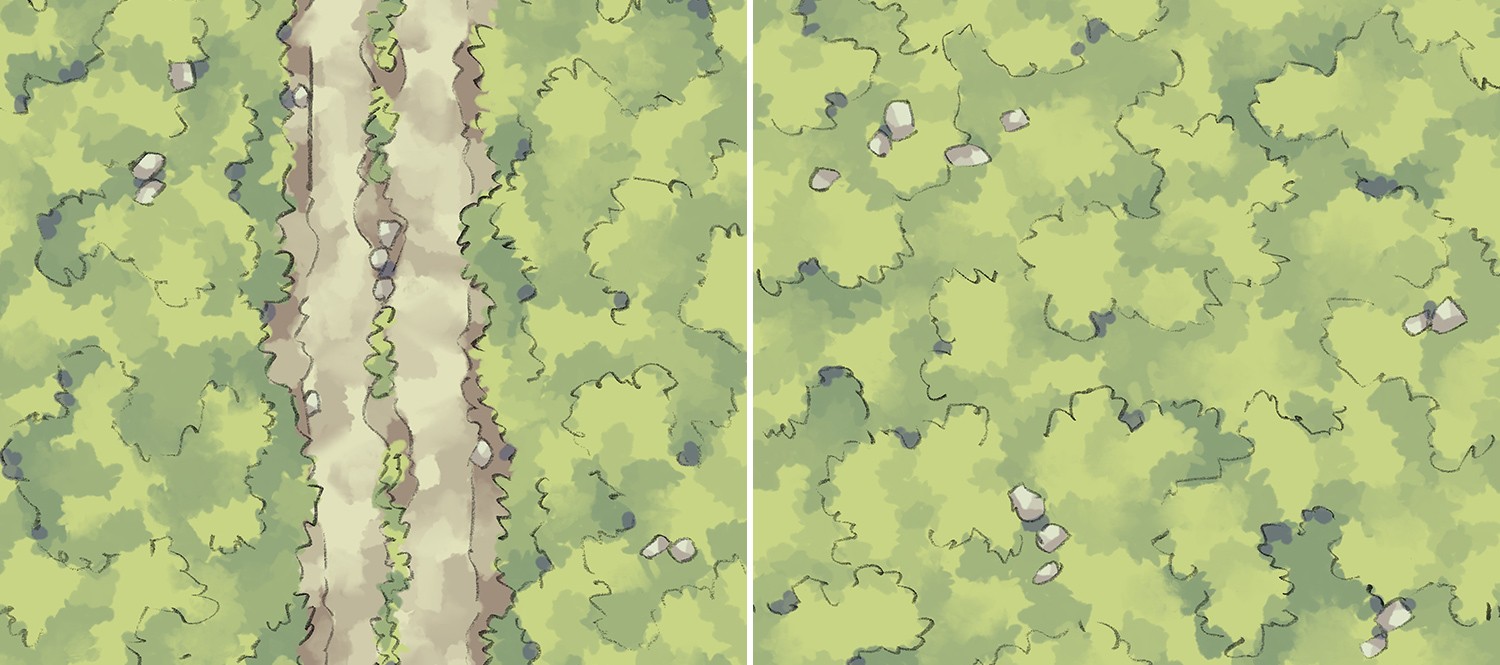 Wow, what boring maps! That said, they are very functional, as each one tiles seamlessly with itself. They can be used either as a bland buffer between interesting tiles, or as a fully-customized wilderness maps (once the Roadside Tokens come out later this week EDIT: They're here!)
Please note, the awkward 8.5″ wide grid won't tile perfectly when printed, but the seamless-ness will work great on virtual table tops. If you're printing them, you can either rotate the map so that the 0.5″ edges meet, or overlap those edges with a neighbouring map.
For people with printers that can't print to the edges, I recommend utilizing the printing only part of a map guide here to select the 8×10 area you would like. This way, I think everyone wins!
Patrons also gain access to the chilly nighttime versions shown above, for extra customizing power!
This work is licensed under a Creative Commons Attribution-NonCommercial 4.0 International License, thanks to our generous supporters. If you would like to use this map commercially, please contact me 🙂
---
These roadside tiles are FREE thanks to Patreon supporters such as:
Owen Eli Cook, Jackobi Forsyth, Patrick O'Hagan, Michael Scartaccini, Nicholas O'Sullivan, Joe Needles @Hi_Average_Joe, Andreas Pagitz, Sam Wise, Bernard Howell, Dantemagnum, Brian Barron, Shawn park, D. Hunt @CanjeStudios, Jeff Sorensen @DelugeIA, Ryan Littlefield, charliefewsmith, DawnforgedCast @DawnforgedCast, Cansin Akcasoy, James Ball, Joshua Renz, Austin Auclair, Glenn, superducky, FableButt @FableButt, eddy zrout, Gilwainmok, Rhea, Jain Deaux, Matthew Kammes, Håkon Eirik Grønlien, Julien Therrien, Wilhelm Lehnhardt @3mporio, m00am, Sheenariel @Sheenariel, Holger Anderson, Poptard, Mladen S., Connor Scott, Tyler Crompton, Stephen Bowyer, Malcolm Ross, Moritz Fornoff, FreedomXIII, RoninDude, Tiana, Dawnbright., Joel McKinnon @joeliemckinnon, Jake Raiju, Jeffrey, Charles Thomson, Michael R Lynch, Camilla Greer, Peter Fox, Tad Bumcrot, evilhomer10 @evilhomer10, DavidUm, spookyrumba @spookyrumba, Zak Wohlschlegel, Bruce McDonald, Allin Knight, Ashfall Art @Ashfall_Art, Charlie Crea, Adam Brinkman, Michael Snow, Jesper Ohlsson, Gregory Wallsworth, Justin Hunter, Matt C. @mc_momo, Adrian Xavier, Maps-4-Snacks, Tyrian @its_tyrian, Jonathan Petersen, DeathStarJanitor @DStarJanitor, drag drag, Mathieu D @GuySniper, Brittany Cole, Anthony Patterson, Geoffrey Ingenbleek, Amanda Fensch, Jens Nielsen, Matt Carroll, Jamieson Mockel, Calvin Clark, Zachary Robinson, David Mckinley, Stephen Perkins, Samantha Russell, dmslayer, Chris Logan, Derrick C Hamilton, Colin Chen, Dakota Ball, Arcknight, Mitchell Probert, Miles Grubbs, LeK's Play @leksplay00, Daniel Gass, and all my other wonderful Patrons!
---