An important strategic location on a dreary coastline. An altogether unappealing place to live, and home only to a skeleton crew of soldiers and maintenance workers.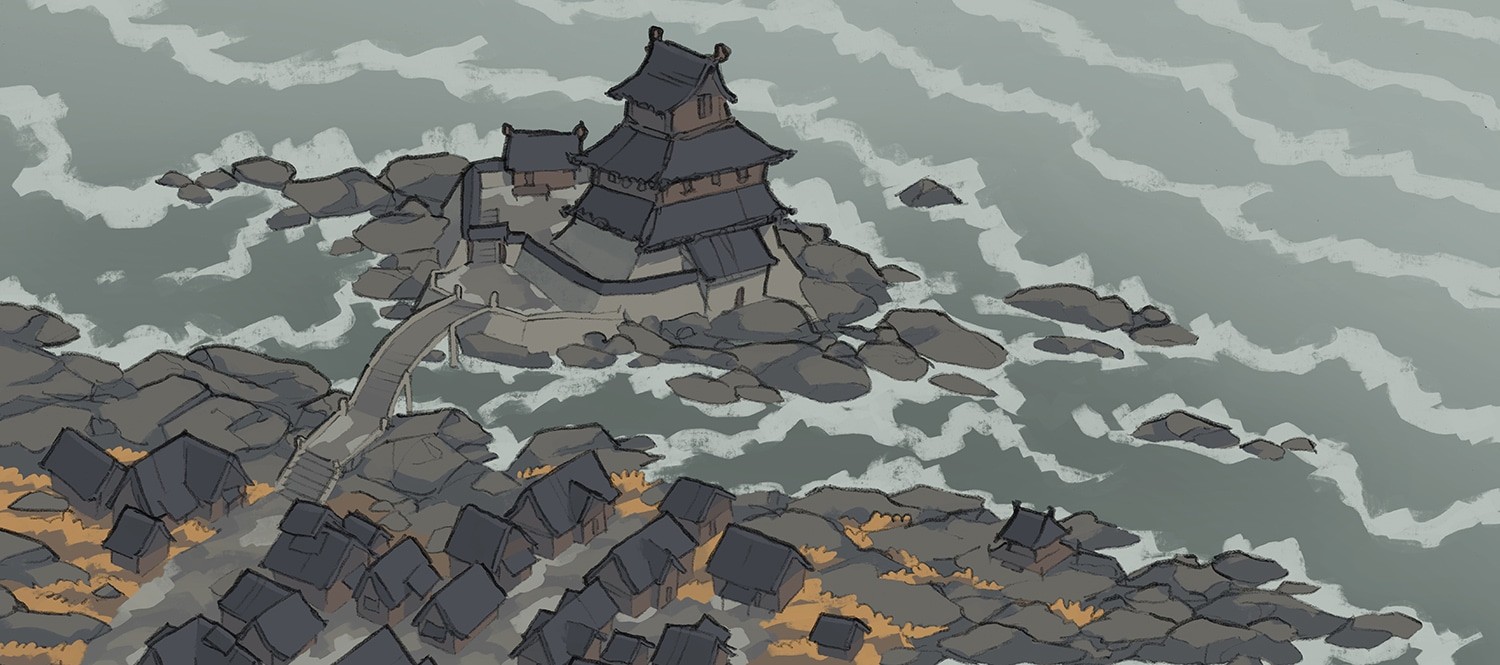 This is a small castle town on the coast, in a defensible location on a well-trafficked sea route. The township's sole purpose is to support the castle and house its samurai. As such, there is seldom enough men to tend to the monsters in the countryside, but the lord does have a coffer set aside to hire adventurers…
I'd love to hear your names and lore ideas in the comments so that I can steal them for my own campaign!
This work is licensed under a Creative Commons Attribution-NonCommercial 4.0 International License, thanks to our generous supporters. If you would like to use this map commercially, please contact me 🙂
---
This town map is free to download thanks to Patreon supporters such as:
Owen Eli Cook, Patrick O'Hagan, Nicholas O'Sullivan, Sam Wise, Jain Deaux, Dantemagnum, Matt C. @mc_momo, Brian Barron, Chris Logan, dmslayer, Cansin Akcasoy, James Ball, Joshua Renz, Jeff Sorensen @DelugeIA, Felix Jongleur, Joel McKinnon @joeliemckinnon, eddy zrout, Austin Auclair, Sam Mean Man, Håkon Eirik Grønlien, Stephon Mikell, Matthew Kammes, Edwin Bryer, Rickard Thernlund, Julien Therrien, Wilhelm Lehnhardt @3mporio, Ty Hajduk, m00am, Poptard, Tyler Crompton, Ronin, Tyrian @its_tyrian, FreedomXIII, Ryan, Tiana, Dawnbright., RoninDude, Jake Raiju, Jeanette OB, Danny Mendoza @dannyrmendoza, Joel Quadko McIntyre, Peter Fox, Tad Bumcrot, Bruce McDonald, evilhomer10 @evilhomer10, Allin Knight, Capela, Zachariah Bazeley, RiddleJacks, Jonathan Petersen, Justin Hunter, Caleb Longshanks Lee, Stephen Perkins, Jamieson Mockel, Calvin Clark, Zachary Robinson, drag drag, Robert Cater, Ian Sheridan @iansheridan, Brittany Cole, LeK's Play @leksplay00, Dustin K. Miller @geonerd, Amanda Fensch, Jens Nielsen, Justin Foster, Miles Grubbs, Arcknight @arcknightgames, Jordan Baker, yumpy @yumpyboi, David Kerr, Maciej Stachowiak, Felix L Gregorcyk, Michael Leimenmeier, Nick Fraker @ikaruwa, Aidan G, Taylor Worthington, Maxime Durocher, Elliott Uribe, taylor eubanks, Kristina Coker, Benjamin Busseniers, soren, Annie, Ievgen Kharabet, Wim, Winona Bandong, Chromagraphe, Joe Brooks, Daniel Kolev, Bill Underwood, Dylan Bender, Seyren Windsor, Gabe Barrett @BGDesignLab, Steffen Bensch, James Ratcliffe @James_Ratcliffe, O'Ryan B, Clay, Daniel, Mike Elston, Blair, Weekendswitch, Ryan Bertsche, Gray, James Melhuish, Ardis Ramey, Adam Astra, Ian Rawley, Agnieszka Kaniewska, Broc Abrams, Jonathan Climas, Hayden Walker, Brandon, Kyle Sternad, YUM-O, C'loni Bailey, Chris Heaton, and all my other wonderful Patrons!
---