Hi everyone! We've just uploaded the Dungeondraft packs for all of the assets we created between December 2021 and March 2022.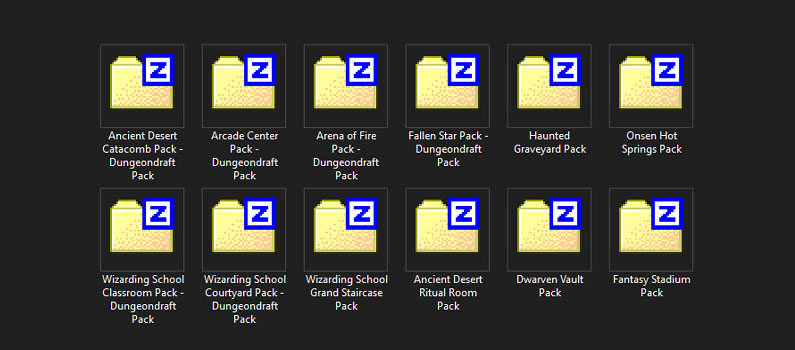 These files have been added to your downloads for all the items listed below! If you have previously purchased these packs, you will find download links in your order email and on your account's download page.
Don't have an account yet? If you make one now, all of your previous orders made with that email address will sync to it automatically.
Register an account
What is Dungeondraft? Dungeondraft is one specific map editing software that we currently support. You can check out our guide for more information:
A Beginner's Guide to Dungeondraft
Everything Pack and Volume 8 owners
If you are the owner of an Everything Pack purchased in 2022 or a standalone Maps & Assets Volume 8, you only need to download the following files:
Volume 8 – Dungeondraft Packs*
Volume 8 – PLUS Dungeondraft Packs (only in the Everything Pack Plus)
* The basic Dungeondraft Pack only contains the Haunted Graveyard assets for now, but both of these files will continue to be updated over the course of 2022 as we release more art!
$2+ Patrons
If you are a Patron at the $2 'Silver' tier or above, you can find all of these files listed neatly on Patreon:
→ One Big Dungeondraft Update!
Individual Patreon Pack owners
If you have purchased our individual $5 Patron Packs, you only need to click the "Dungeondraft Pack" download link in your order email or on your account's download page for the following new items…
Wizarding School Classroom Pack
Fallen Star Pack
Ancient Desert Catacomb Pack
Arena of Fire Pack
Wizarding School Courtyard Pack
Arcade Center Pack
Haunted Graveyard Pack
Onsen Hotsprings Pack
Wizarding School Grand Staircase Pack
Dwarven Vault Pack
Fantasy Stadium Pack
Ancient Desert Ritual Room Pack
---
Thank you for your support, and we hope that you enjoy!