Six 10×10 gritty street map tiles designed for games set in the modern-day or post-apocalypse, Shadowrun and Cyberpunk worlds. Skip to the downloads?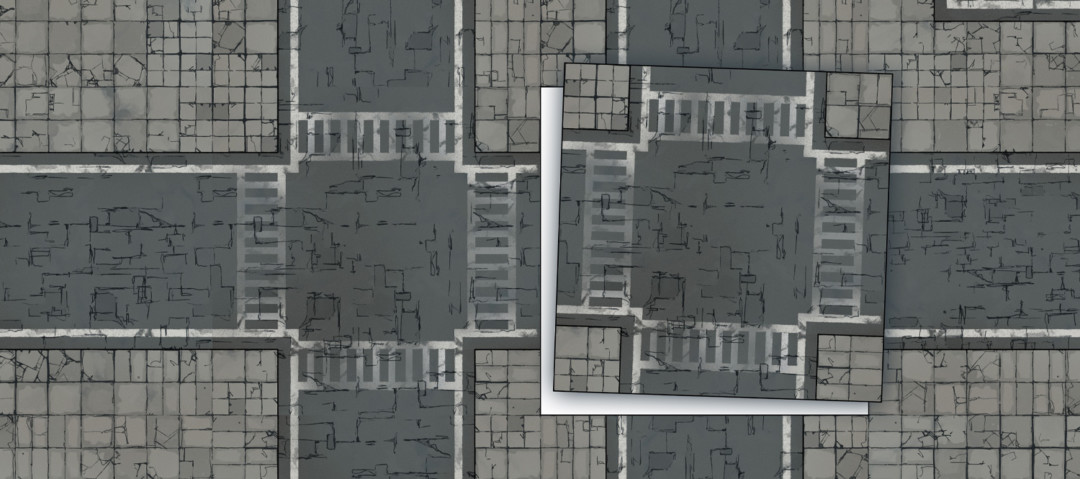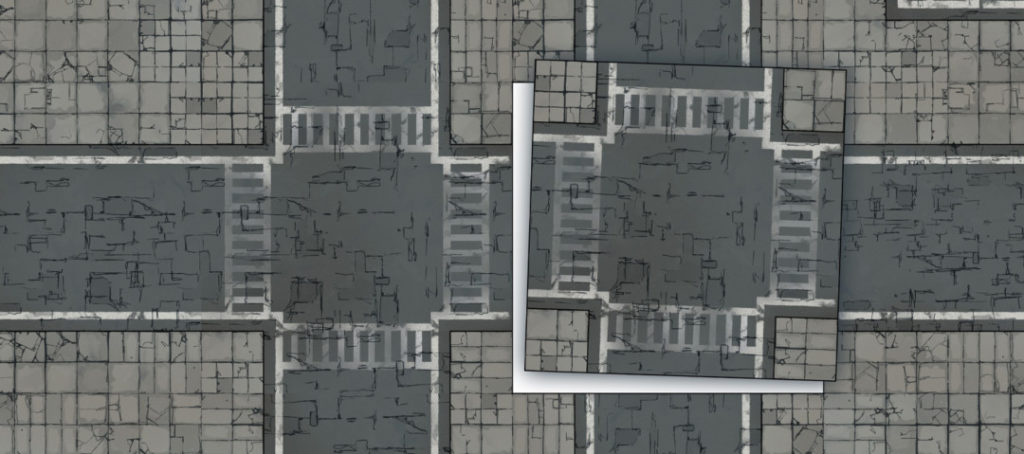 These gritty map tiles are my latest addition to our growing Cyberpunk collection and also serve valiantly as modern-day streets. They're inspired by Akira, Ghost in the Shell, and New York city mostly, but are an amalgamation of a huge collection of reference pictures I collected.
They're a little barren now (unless you want to drop a Cyberpunk Car on them) but I plan to furnish them with all manner of props with next month's Cyberpunk Street Assets (it's a working title!) and might even play with a buildings pack after that.
It took several attempts to get these textures and layouts just right, so I hope you like what I settled with! If not, please enjoy using the "building block" textures (rewards for Silver+ Patrons, or available in the $5 Patron Pack here) I made along the way to create anything you like:
Those bonus textures make excellent fantasy tiles too, mind you!
I'd love to know how you plan to use these, and what you'd like to see in the Clutter pack. Please leave a comment if you have any ideas or requests. 🙂
Also inside your download…
A bonus Cyberpunk-themed music track
Runner in the Rain by the Boy King of Idaho
The Boy King of Idaho is Alex, a composer and DM. He writes unique and immersive music for D&D and other tabletop rpgs.
Alex reached out to me a while back to collaborate, and this map/music pairing is what we came up with. We hope it will kick your Cyberpunk city ambience up to the next level. 🙂
His songs cover everything from dark and menacing encounters, to sweeping and cinematic battles, to light and playful moments, to cyberpunk anthems (like the one included here). All of it has a distinctive flavor to help bring your game to life.
He releases multiple songs and ambient soundscapes each week over on his Patreon, where you can also find a collection of free tracks to download. Check it out at www.patreon.com/boykingofidaho
Subscribe
Here are all the ways that you can keep up to date with our new content, be it on social media or with our email newsletter:
---
Download the Modern Street Tiles
You can download the digital files below. Thank you for your support! It's thanks to you that I can keep making these maps and assets. 🙂
We will deliver the download links to your email address, which include printable PDFs and digital files. You can choose which pack you would like below.
These six map tiles are free to download thanks to Patrons such as: