Create your own battle maps with 145 map assets inspired by the furniture and decorations of feudal-era Japan, the age of the samurai!
Skip to the downloads?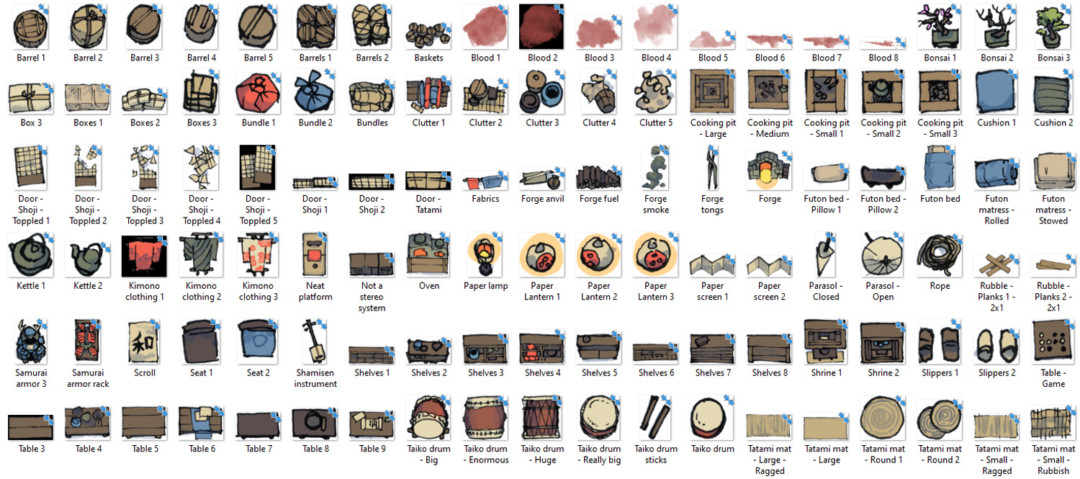 These furniture assets were made especially to furnish The Japanese Castle Oshiro map and, like it, were built from my own pile of reference photos and a huge collection of snapshots from Ghost of Tsushima. 
There's a variety of everyday, interior furnishings from the pantry to the kitchen via the bedroom and the living room. I've probably missed something but hey, it's almost all there!
Of course, these assets aren't so strongly Japanese flavored that you can't use them elsewhere. Even if you don't have a Japan-analogue (Japanalogue?) in your campaign, these kettles and boxes and barrels and drums will see plenty of use.
Please do share what you create in the comments! I'm always on the hunt for more maps inspired by feudal Japan for my own campaign setting. 😉
Subscribe for More
Here are all the ways that you can keep up to date with our new content, be it on social media or with our email newsletter:
Download the Japanese Furniture Map Assets
You can download the digital files below, where you'll also get an opportunity to support me for my work. Thank you! It's thanks to you that I can keep making these maps and assets. 🙂
We will deliver the download links to your email address. You can choose which pack you would like below.
These map assets are free to download thanks to our generous Patrons
For exclusive map variants and even the PSD files, consider joining the amazing community that makes these maps possible: