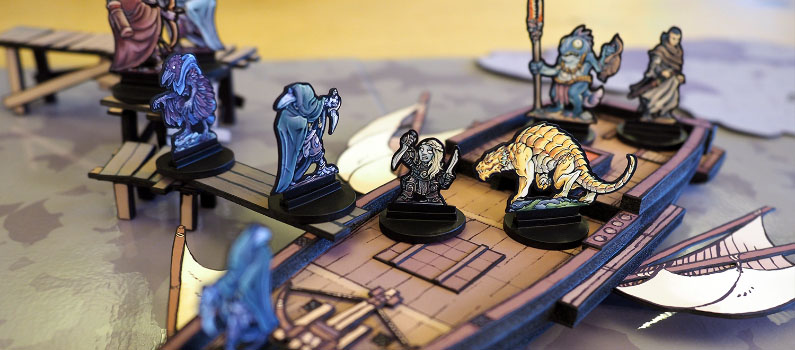 Roy Ostrowski (@life_in_levithia on Instagram) recently put together this wonderful "2.5D" airship by kitbashing our Schooner and Airship map assets together with some foamboard, glue, and paper. He was kind enough to share both his inspiring photographs and his method, so read on if you'd like to try this out yourself!
You can click the images below to zoom in for a closer look.
The Whisper
Roy: The Whisper was made out of the Schooner Map using the simplest tools I had around. I tried myself in foam tiles a few month back and although everything looks great, I can't keep up with the amount of time I have to put into it. This style however gives me the speed to finish maps quickly and with high details and accuracy I seek for my world for D&D.
How To Make 2.5D Maps
Roy: The map is printed multiple times and mainly glued with a gluestick to 5mm black foamboard and cut with the cutter. To give the white edge of the paper a nicer finish I line it with a black ink pen. I redo some details by gluing parts of the map to either 5mm black foamboard (for the railings for example) or 300gsm black paper to give it some weight a small but noticeable height (the hatch, the wooden masts on the front sails or the upper part from the cloth of the rear sails and the wooden masts).
I keep the major layers of the map separate (the different decks or rooms) and attach magnets so that they can be assembled into one movable ship!
In summary:
Glue each layer of the map to a 5mm black foamboard
Cut out each layer using a hobby knife and cutting mat
Clean up the white edge of the paper using a black ink pen (optional)
Assemble and glue each part together into your desired piece(s)
– Add extra height using additional foamboard or 300gsm black paper (optional)
Glue magnets to each piece so that they can be assembled into one piece (optional)
Downloads
Interested in the map assets that Roy used to create these maps? You can find them listed here:
The lovely paper figurines in Roy's photos are from our friends at PrintableHeroes!
→ Click here to visit their website
Subscribe for More
We publish new art and resources every week! If you'd like to keep up, here are all the ways that you can do it, be it on social media or with our email newsletter: