A small but prosperous town has sprung up around a sparkling oasis, allowing civilization to grow in the midst of these golden sands…
Skip to the downloads?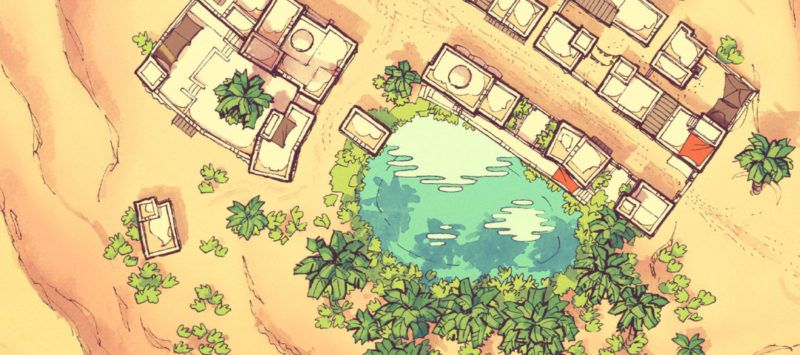 The moment that Troy and I settled on a desert theme for this month I knew that I wanted to draw a town map. Not only were desert town assets a popular request, but I had been sitting on an oasis town concept for a while already.
I drew this map with a brush pen and fine liner and, for the first time since my Autumn Stream map five years ago, dared to give watercolor paints another go. I'm glad that I did! Though I still have a lot of practice to do, I think this map has been a successful proof of concept for me, and I'm excited to develop the technique further.
It's a nameless and unmarked town, as usual for my region maps, but that's because we'll be fleshing this town map out further when Troy's accompanying article comes out! Please subscribe below if you're interested in that sort of content:
In the meantime, what stories does this town map awaken in your mind? Please share them in the comments!
Download the Desert Oasis Town Map
You can download the digital files below, where you'll also get an opportunity to support me for my work. Thank you! It's thanks to you that I can keep making these maps and assets. 🙂
We will deliver the download links to your email address. You can choose which pack you would like below.
The base map is free to download thanks to our generous Patrons
For exclusive map variants and even the PSD files, consider joining the amazing community that makes these maps possible: