Welcome to the lands of Fara Wei, or simply "Wei." I've been meaning to draw this world map for a long time, as it just so happens to be the setting of my own 3+ year old campaign!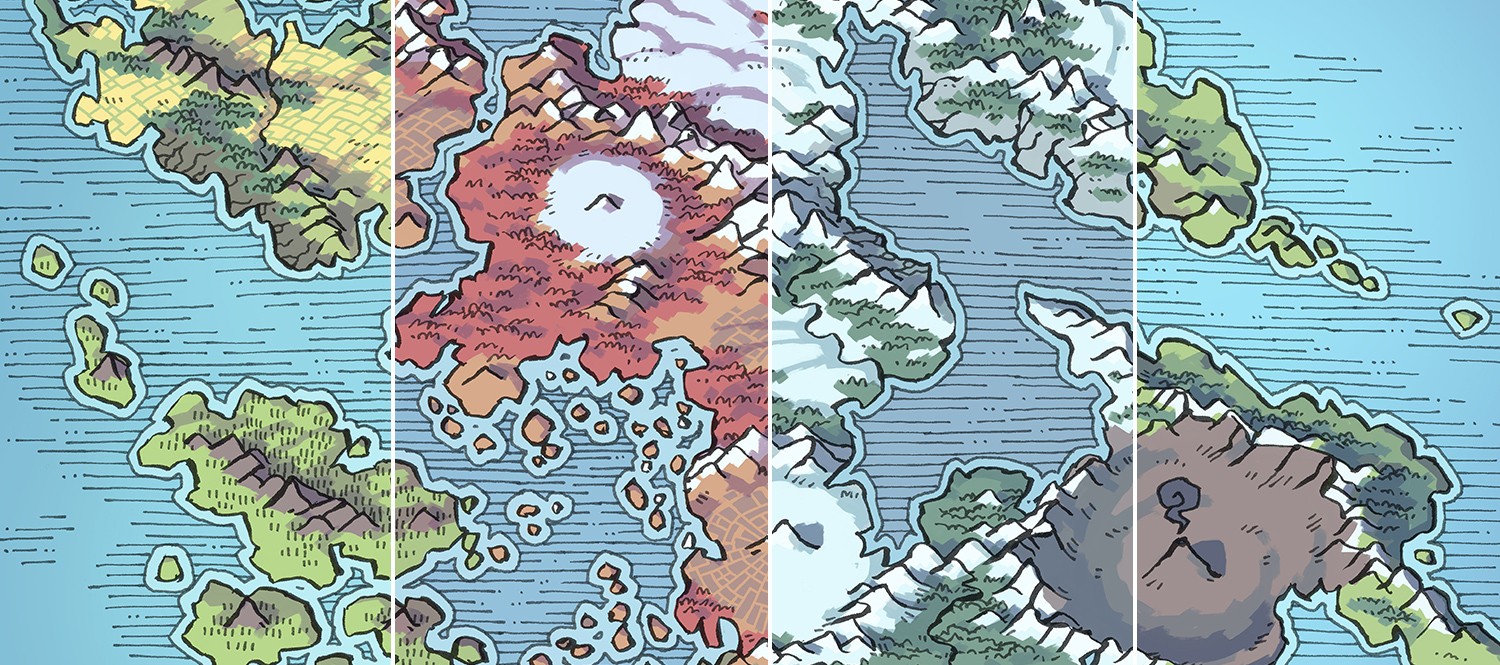 The provinces of Wei are the setting of an eternal clash between fantasy-Japan, fantasy-China, and the ancient oni living in the mountains. It's a land with a shrouded history and many secrets. Where dreams seem at times to overlap with reality, and ageless dragons hide in the shape of humans.
I drew this in preparation for the release of LegendKeeper, a cloud-based application for building and organizing fictional worlds. I'm very excited to be involved in its development, and am dying to get my hands on it. I highly recommend checking it out. It's going to be a real game-changer for my own campaign organization.
That all said, this world map doesn't need to be the start of a new campaign for you. It also makes for a great "across the seas" location for your campaign — don't we all have that player who want to play a zany race that doesn't fit into our current setting? (I'm looking at you, Jeff the cowboy). Alternatively, it's a place for the party to visit they accrue such a bounty that their only option is to flee the continent!
Let me know your plans for this map in the comments. 😉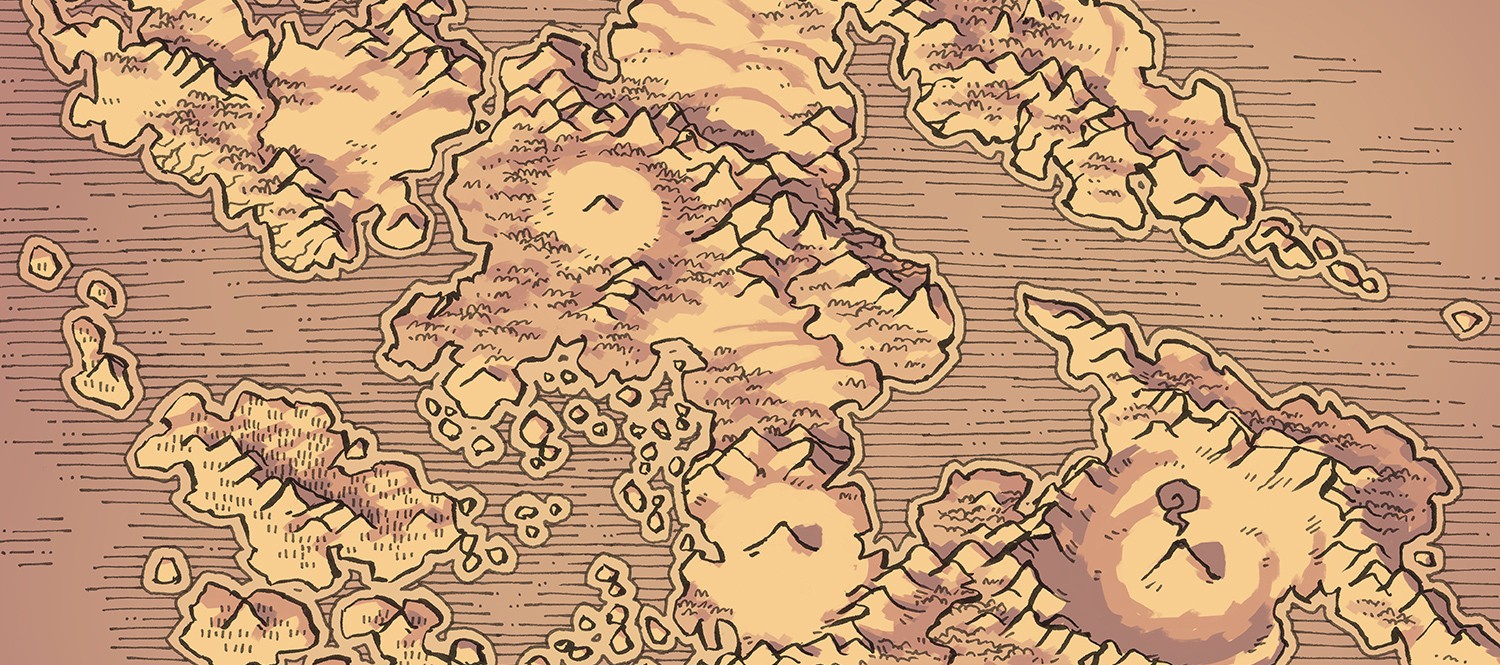 Download the RPG World Map of Wei
We will deliver the download links to your email address, which include printable PDFs and digital files.
This work is licensed under a Creative Commons Attribution-NonCommercial 4.0 International License, thanks to our generous supporters. If you would like to use this map commercially, please contact me 🙂
---
This world map is free to download thanks to Patrons such as:
Owen Eli Cook, Patrick O'Hagan, Nicholas O'Sullivan, Jain Deaux, Sam Wise, Matt C. @mc_momo, Dantemagnum, dmslayer, Brian Barron, Chris Logan, Joel McKinnon @joeliemckinnon, Felix Jongleur, Stephon Mikell, Cansin Akcasoy, James Ball, Joshua Renz, Austin Auclair, Sam Mean Man, Jeff Sorensen @DelugeIA, eddy zrout, Ronin, Edwin Bryer, Håkon Eirik Grønlien, Ty Hajduk, Rickard Thernlund, Julien Therrien, Matthew Kammes, Wilhelm Lehnhardt @3mporio, Tyrian @its_tyrian, Poptard, Capela, m00am, Jeanette OB, Danny Mendoza @dannyrmendoza, Joel Quadko McIntyre, Tyler Crompton, FreedomXIII, RoninDude, Tiana, Dawnbright., evilhomer10 @evilhomer10, Jake Raiju, Peter Fox, Zachariah Bazeley, Tad Bumcrot, Bruce McDonald, Robert Cater, Ian Sheridan @iansheridan, Allin Knight, Justin Hunter, RiddleJacks, Caleb Longshanks Lee, Jonathan Petersen, Maciej Stachowiak, Dustin K. Miller @geonerd, Stephen Perkins, Jamieson Mockel, Calvin Clark, Zachary Robinson, Maxime Durocher, Jens Nielsen, Arcknight @arcknightgames, Michael Leimenmeier, Jordan Baker, Justin Foster, Amanda Fensch, Nick Fraker @ikaruwa, Miles Grubbs, Aidan G, Taylor Worthington, Elliott Uribe, Steffen Bensch, Emily Forrette, taylor eubanks, soren, Benjamin Busseniers, Kristina Coker, Dylan Bender, Sheila Motter-Schuk, Annie, Ievgen Kharabet, TheAussieBrit, Clay, Daniel, Jonathan Streeter, Wim, Gray, Joe Brooks, Daniel Kolev, Bill Underwood, Gabe Barrett @BGDesignLab, Mike Elston, Seyren Windsor, Brandon, Ian Rawley, Blair, Jonathan Climas, Weekendswitch, 1 Adventure Frameworks, Ardis Ramey, Adam Astra, Agnieszka Kaniewska, Berringer, Broc Abrams, Hayden Walker, Kyle Sternad, Nancy Saunders, YUM-O, Lewis Payea, Andrew Smith, Morten Sunde, Nathaniel Hodges, Mario J Roberti, Cristhian Vargas, Alexander M., Jesse Bethke, Morgan Ezra, Paul Pollard, Richard H Adkins Jr, RupertG @diceofdoom, Serf, and all my other wonderful Patrons!