A traveling caravan has erected a gorgeous camp, their yurts bright and bold in the sun.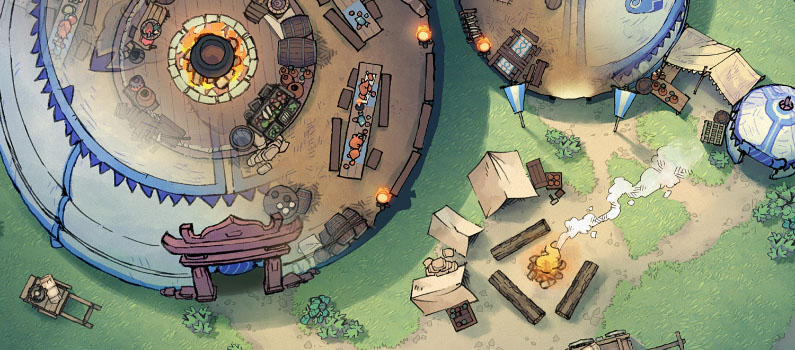 This 22×16″ battle map is a commission by Crunkle, who took the opportunity to transform some of our recent circus tents into some Mongolian-inspired yurts. The result is this inviting campsite, no doubt home to some vibrant NPCs.
There are interior maps too, of course! Each tent is lovingly decorated for dining, sleeping, and storage. You can also download the standalone tent assets in the expanded pack.
Would these yurts have a place in your campaign, and what sort of NPCs might be living in them? I could just as easily imagine fierce raiders as I could jovial merchants. I'd love to hear your ideas.
Subscribe for More
We put out new content like this almost every week! If you'd like to keep up, here are all the ways that you can do it, be it on social media or with our email newsletter:
Download the Nomadic Camp battle map
You can download the digital files below, where you'll also get an opportunity to support us. Thank you! It's thanks to you that we can keep making these maps and assets. 🙂
We will deliver the download links to your email address. You can choose which pack you would like below.
We can offer this base pack for free thanks to our generous Patreon supporters
For exclusive map variants and even the PSD files, consider joining the amazing community that makes these maps possible: