A soaring, secluded structure that still stands stubborn and solemn, staring out into the silver southern seas.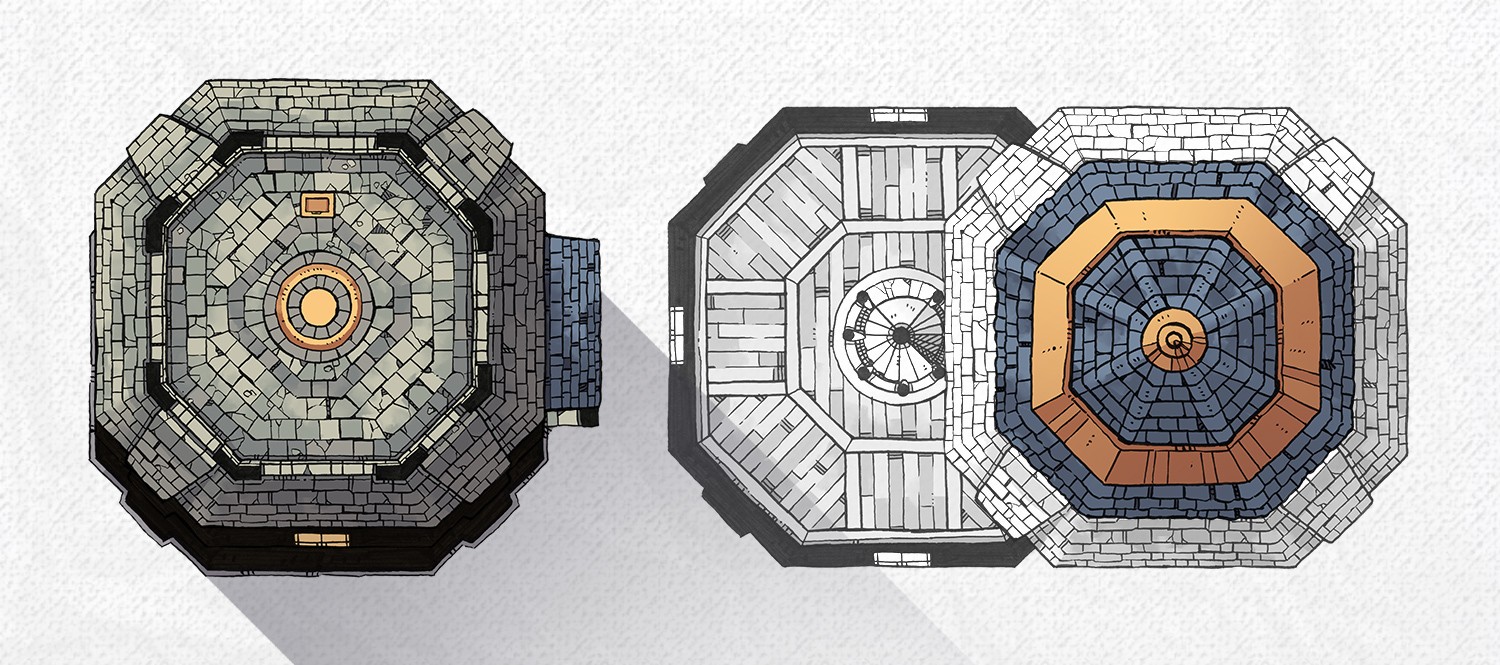 This is the base lighthouse that will join our growing collection of set pieces waiting to be furnished to your liking with one of our furniture asset packs, or left empty for the wind to howl freely through its rooms.
The middle layer is designed to be repeated as many times as needed, so that you can build the tower as tall as you desire. The top / exterior level is rather bare in case you want to re-purpose this lighthouse as a mage tower or Eye of BBEG, but there is also a package of mirrors and lenses within the download suitable for a lighthouse.
Next week I plan to edit this base into a tower suitable for our recent Seaside Precipice. This version will be fully furnished and custom-colored to match the moody base map, so please be patient if you are looking for a pre-furnished lighthouse — it's coming soon. 😉
Till then, please enjoy, and please share your encounter ideas in the comments!
Downloads
More Previews
This lighthouse is free to download thanks to Patrons such as:
Owen Eli Cook, Nicholas O'Sullivan, Jain Deaux, Matt C. @mc_momo, dmslayer, Sam Wise, Chris Logan, Felix Jongleur, Stephon Mikell, Ronin, Edwin Bryer, Dantemagnum, Ty Hajduk, Brian Barron, Jeanette OB, Joel Quadko McIntyre, evilhomer10 @evilhomer10, Cansin Akcasoy, James Ball, Joshua Renz, Austin Auclair, Ian Sheridan @iansheridan, Sam Mean Man, eddy zrout, Maciej Stachowiak, Maxime Durocher, Rickard Thernlund, Wilhelm Lehnhardt @3mporio, Michael Leimenmeier, Julien Therrien, Nick Fraker @ikaruwa, Poptard, Tyler Crompton, Elliott Uribe, Steffen Bensch, FreedomXIII, RoninDude, soren, Tiana, Dawnbright., Dylan Bender, Jake Raiju, Sheila Motter-Schuk, Tad Bumcrot, TheAussieBrit, Bruce McDonald, Allin Knight, Justin Hunter, Hugh, Caleb Longshanks Lee, Jonathan Petersen, Brandon, Stephen Perkins, Jamieson Mockel, Calvin Clark, Berringer, Arcknight @arcknightgames, Clay, Jordan Baker, Justin Foster, Cristhian Vargas, Jesse Bethke, Aidan G, Jørund Skarvang Olsen, Taylor Worthington, Amber Learmonth, Benjamin Busseniers, Zavier Aguila, James Kerr, Jonathan Marlow, Michael Greenly, Jonathan Streeter, Wim, Joe Brooks, Daniel Kolev, Bill Underwood, Mike Elston, Seyren Windsor, Brandon Thompson, Ian Rawley, Blair, Mariana Hernandez @marianahernz, Broc Abrams, Kyle Sternad, YUM-O, nodworthy, James Doutney, Jim Powers, Lewis Payea, Andrew Smith, Morten Sunde, Nathaniel Hodges, Serf, RupertG @diceofdoom, Austin Whynot, John Feiler, Bunnnnnn, Carlin Kubenka, Jessica Bonham, Echo Hatcher @echosgecko, James MacKenzie, Renan Vinicius Poyer, Anthony Bucyk, Nick te Velde, Anthony Yos, Apollo, Luke Partridge, Mats Bremer, sinj, Noelle, Chris Lee, Kate Randazzo, Steven Remington, Arcane Toaster, Elena Bolton, CreativeSigma, Christopher Bjork @What, Malcolm Wolter, Nhilah, and all my other wonderful Patrons!
This work is licensed under a Creative Commons Attribution-NonCommercial 4.0 International License, thanks to our generous supporters. If you would like to use this map commercially, please contact me 🙂