A stream bubbles gently into a wide lake, home to an orchestra of frogs and a galaxy of fireflies. What harm could find you in a place as peaceful as this?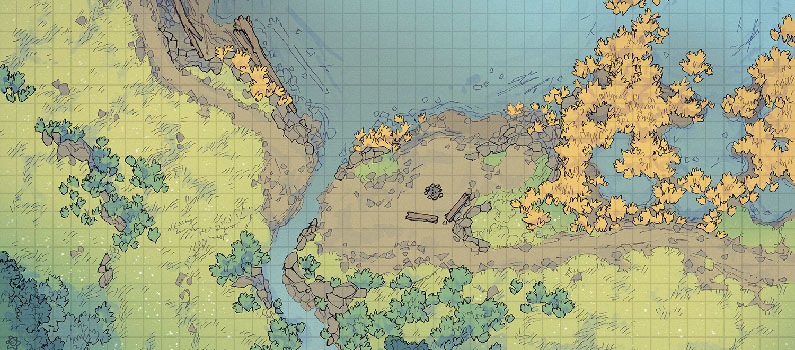 When it came time to draw map #3 this month I found that my printer had suddenly given up the ghost, depriving me of a printed grid or a digital draft of any kind. When I'm reduced to a blank sheet of paper like that I like to fall back on natural scenes, where grids don't matter and the shapes are endlessly malleable. Besides, they're my favorite things of all to draw!
As this particular map evolved it became a sort of throwback to another of my earliest maps, the Shingle Shore. I specially designed this one to offer a stealthy route for assailants – bushy concealment all the way from the woods to the campsite. Don't get too wrapped up in the view, PCs!
Do any encounter ideas come to your mind? What sort of creature(s) might live in this region? How do people in your world deal with mosquitos? I'd love to hear your thoughts below. 🙂
Subscribe for More
We put out new content like this almost every week! If you'd like to keep up, here are all the ways that you can do it, be it on social media or with our email newsletter:
Download the Lakeside Camp battle map
You can download the digital files below, where you'll also get an opportunity to support me for my work. Thank you! It's thanks to you that I can keep making these maps and assets. 🙂
We will deliver the download links to your email address. You can choose which pack you would like below.
We can offer this base pack for free thanks to our generous Patreon supporters
For exclusive map variants and even the PSD files, consider joining the amazing community that makes these maps possible: