An network of dripping tunnels lined with grime, debris, and unspeakable things. And with these four map tiles, they can go on just as far as you need!
A sewer tile set is an oft-requested item and one that I have put off for far too long. These tiles stand alone very well, but the set is not yet done! I intend to draw a collection of decorations for you to ad variety to the tiles, such as various wooden platforms, debris piles, and submerged oddities.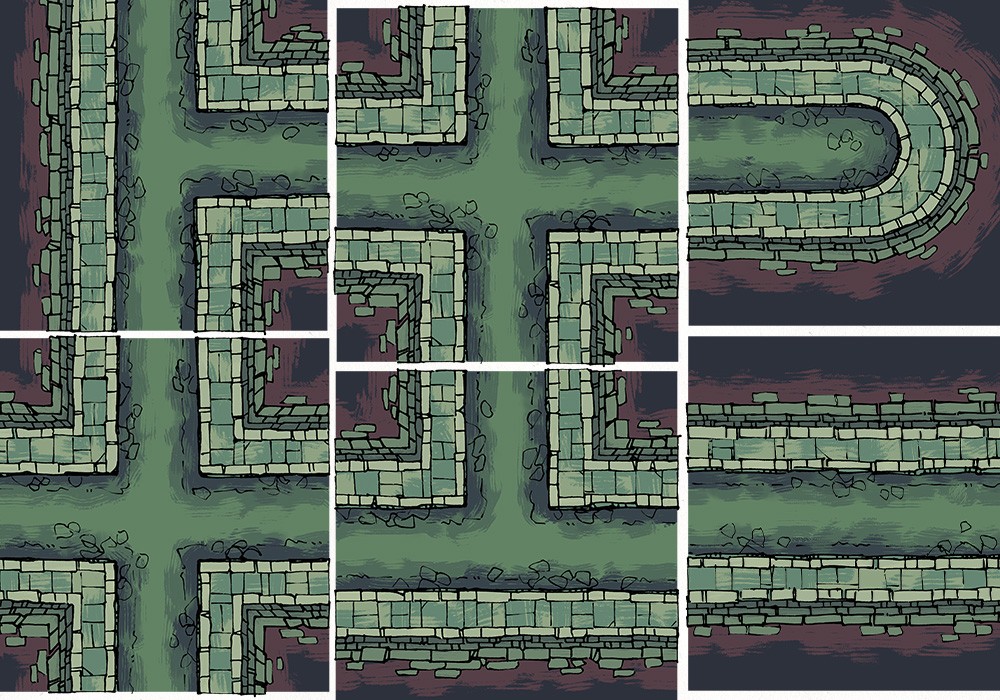 In the meantime, I hope that you will enjoy playing around with these map tiles. They are each 8×8″ and print out on separate A4 or US Letter pages in order to make it easier to repeat-print the ones that you need.
As usual, there are black & white and line-art-only setting in the layers menu. Be sure to print at 100% scale to get the grid scale right, and be sure to send me photos of your labyrinth!
Sewer Map Tile Downloads
Download the sewer tiles, and consider some of our other fun items:
For exclusive map variants and even the PSD files, consider joining the amazing community that makes these maps possible:
The Sewer Map Tiles are free to download thanks to Patrons such as:
This work is licensed under a Creative Commons Attribution-NonCommercial 4.0 International License, thanks to our generous supporters. If you would like to use this map commercially, please contact me 🙂