All sorts goes on at the city wall, from festive celebrations to fiery sieges. Today it so happens to be a humble market, but what might tomorrow bring?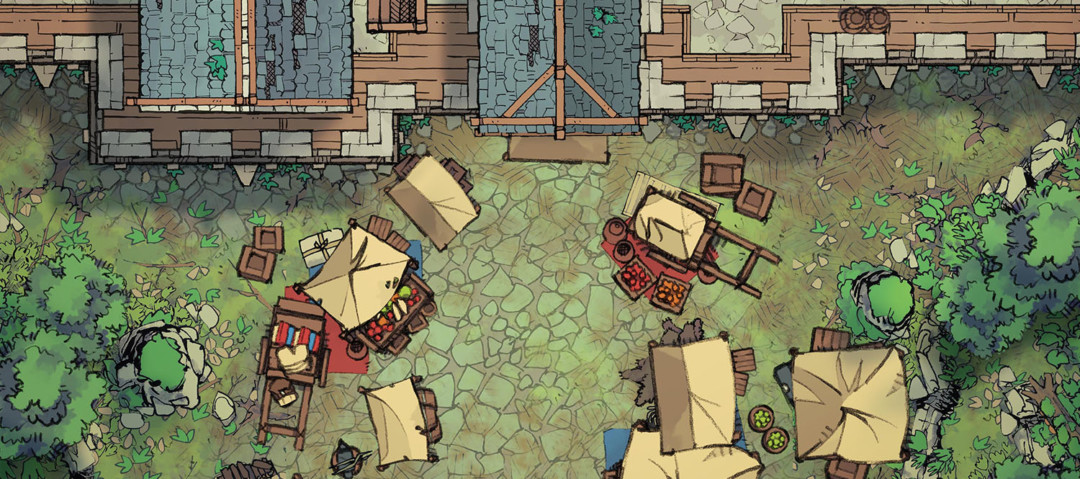 This battle map is part of our special February Patreon series, and was put together by the artistic mind of Bastien Aufrere! You might know him by "Naruga" if you frequent our Patreon Discord, where he often posts vibrant maps that he's made for his own games. In this case we've commissioned him specially to bring you this versatile city scene.
What interesting commodities might this travelling market have brought to town? Maybe the gates are locked and these are refugee tents? Perhaps this is simply the best spot in town for the weekend market.
Those are just some of the ideas that have crossed my mind. What sort of stories or encounters have popped into yours? Please share them below! 🙂
Subscribe for More
Here are all the ways that you can keep up to date with our new content, be it on social media or with our email newsletter:
Download the City Gates Battle Maps
You can download the digital files below, where you'll also get an opportunity to support me for my work. Thank you! It's thanks to you that I can keep making these maps and assets. 🙂
We will deliver the download links to your email address. You can choose which pack you would like below.
We can offer this base pack for free thanks to our generous Patreon supporters
For exclusive map variants and even the PSD files, consider joining the amazing community that makes these maps possible: