A kaleidoscope of banners wave gleefully in the wind, beckoning to people far and wide to come see what's inside the great tent.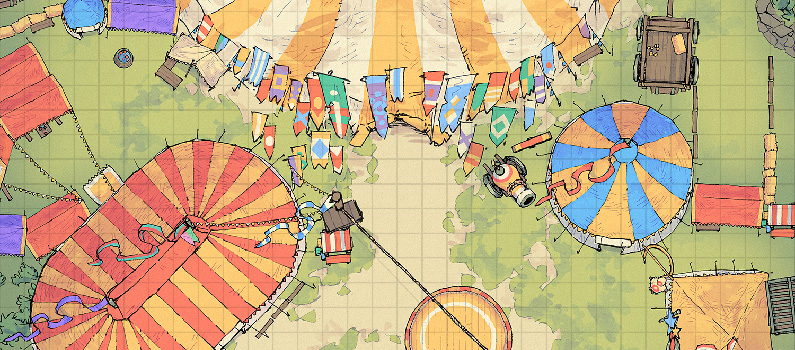 "The circus" is one of those subjects that have been on my to-do list for years and years now, and still gets a fresh request about once a month. Well, seeing as The Wild Beyond the Witchlight is right around the corner and the Heckna "carnival horror campaign setting" Kickstarter was recently funded, I figured it was now or never!
This carnival was a massive undertaking and a great challenge, but I am satisfied with the result. It stands in the center of a 32×44″ grassy field which I have thoroughly dressed up with some Circus Map Assets (coming next week) and it also boasts a 20×20 ft. interior:
I hope that these two packs fulfill all your carnival-related needs! I'd love to hear about the carnivals of your world and the challenges you might have planned for your players. If you'd like to share, please leave a comment below. 🙂
Subscribe for More
We put out new content like this almost every week! If you'd like to keep up, here are all the ways that you can do it, be it on social media or with our email newsletter:
Download the Circus Tent battle map
You can download the digital files below, where you'll also get an opportunity to support me for my work. Thank you! It's thanks to you that I can keep making these maps and assets. 🙂
We will deliver the download links to your email address. You can choose which pack you would like below.
We can offer this base pack for free thanks to our generous Patreon supporters
For exclusive map variants and even the PSD files, consider joining the amazing community that makes these maps possible: