This FREE  bridge map marks an exciting transition for 2-Minute Table Top! Thanks to our amazing community of Patrons, I am happy to publish this map under a Creative Commons license. Not only does that mean it's free, but you are welcome to share it and incorporate it into your own material! More info below…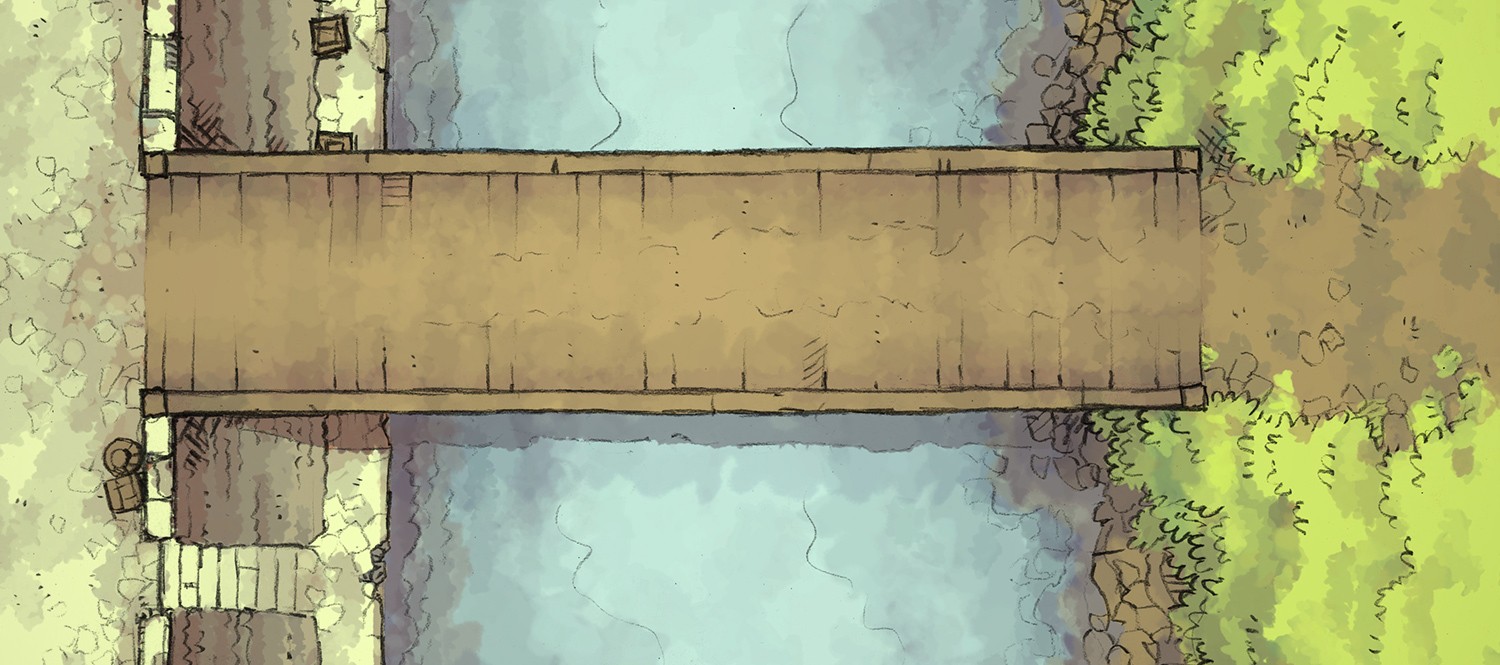 The East Bridge is loosely based on the Togetsukyo Bridge in western (oops) Kyoto, where the muted city meets the forested mountains. It's also a sentimental representation of crossing from 2016 into a very optimistic 2017, and incorporates many techniques I learned last year whilst trying something new, namely with the sketchy-watercolor style and vibrant palette.
As for its merit as a battle map, it should make for a fun encounter with a duelist, or a choke point to stave off an invasion. Perhaps the city guard is off fighting in *the war* and your players must dislodge a camp of highwaymen or sahuagin? Maybe some drunken dockworkers are just looking for a scuffle?
Let us know what you come up with in the comments!
This work is licensed under a Creative Commons Attribution-NonCommercial 4.0 International License, thanks to our generous supporters. If you would like to use this map commercially, please contact me 🙂
---
I'd like to especially thank the following people:
Owen Eli Cook, Matthew Southall, David Binette, Patrick O'Hagan, Simon Lawes, Bernard Howell, Michael Scartaccini, Michael Pace, Sam Wise, Andreas Pagitz, Mark Dantemagnum, Nicholas O'Sullivan, Joe Needles @Hi_Average_Joe, Brian Barron, Ryan P, @PrintableHeroes, @DawnforgedCast, Trung Duong @trungrunt, Jeff Sorensen, Michael Reading, David Parks, Seung Park, D. Hunt @CanjeStudios, Ahria Rose-Klarenbeek, Shards The Game, Matt Martin @orcboss, Javier Tellez, Charles Harris, Jason Oliver, Sam Jordan
---
These 2-Minute Maps come with several grid and color options (even more than pictured above) with printable PDFs and virtual table top JPGs all included. If you are a supporter on Patreon (thank you!) you can download your exclusive muted "grimdark" variant here.
[thrive_megabutton mt="DOWNLOAD" st="East Bridge" color="green" link="https://2minutetabletop.com/index.php/product/east-bridge/" target="_self" align="aligncenter"]