This FREE and decidedly nameless port town map is made possible once again by my wonderful Patrons. Thank you, everyone!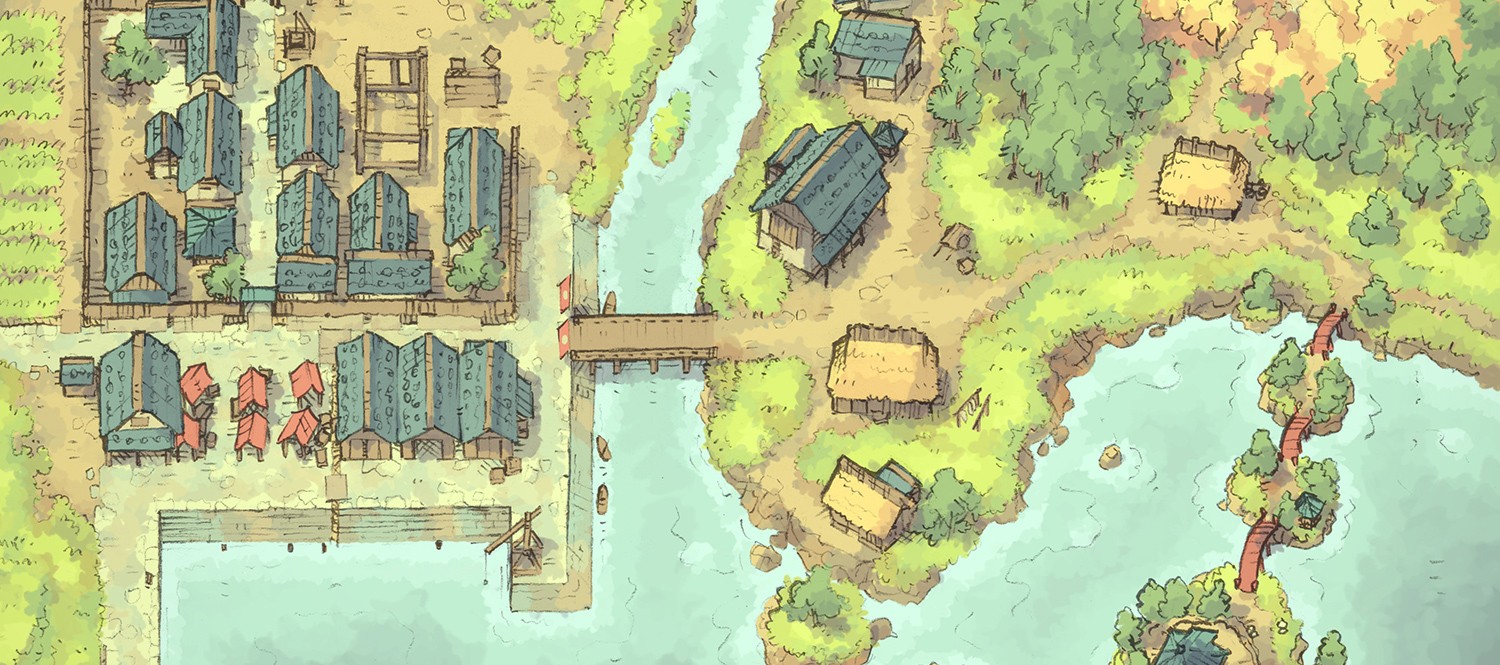 This town map ties together the maps I have drawn while travelling Japan; the Island Crossing and Plateau, Shrine Essentials, Rock Garden & Tea House, and East Bridge. In my campaign, this town is called Hyakushima:
War and piracy has disrupted the trade routes in the north, and now more and more merchants are opting to sail through the "hundred island coast". Due to all this wealthy sea traffic, Hyakushima has grown quite suddenly from a village into a blossoming port. West of the river, a number of merchants have moved in permanently, where they are investing heavily in the port and market.
Coin attracts more than wealthy opportunists though, and the once lonely town now sees its fair share of undesirables. Sailors, thieves, and cowled figures roam about in the night. It's no wonder that the wealthy folk have erected a wall around their new neighborhood, what with all the tales of "bridge brawls," tea house drug dens,  and angry shrine spirits.
Only a handful of people have lived here for more than a generation, and they worry for their rapidly changing home. Few in number and better suited to fishing and farming than diplomacy and police-work, they hope for a few experienced travelers to help them find security.
This work is licensed under a Creative Commons Attribution-NonCommercial 4.0 International License, thanks to our generous supporters. If you would like to use this map commercially, please contact me 🙂
---
Special thanks to the following people:
Owen Eli Cook, Matthew Southall, David Binette, Patrick O'Hagan, Simon Lawes, Bernard Howell, Michael Scartaccini, Michael Pace, Sam Wise, Andreas Pagitz, Mark Dantemagnum, Nicholas O'Sullivan, Joe Needles @Hi_Average_Joe, Brian Barron, @PrintableHeroes, @DawnforgedCast, Trung Duong @trungrunt, Jeff Sorensen, Michael Reading, David Parks, Seung Park, D. Hunt @CanjeStudios, Ahria Rose-Klarenbeek, Javier Tellez, Shards The Game, Matt Martin @orcboss, Charles Harris, Jason Oliver, Sam Jordan, Ryan Littlefield, charliefewsmith, Violet, Matthew Gillett, William Hamilton, Adam Brennan, Ron, The one who Wasps, Michael Wayne Berube II, Peter Saumur @Stitched, Gilwainmok
---
These 2-Minute Maps come with several grid and color options (even more than pictured above) with printable PDFs and virtual table top JPGs all included. If you are a supporter on Patreon (thank you!) you can download your exclusive parchment variant here.
DOWNLOAD Hyakushima Pack ($4, six maps)
or