A vibrant square where the city's main roads meet, featuring an event stage, tall rooftops, and dark alleys.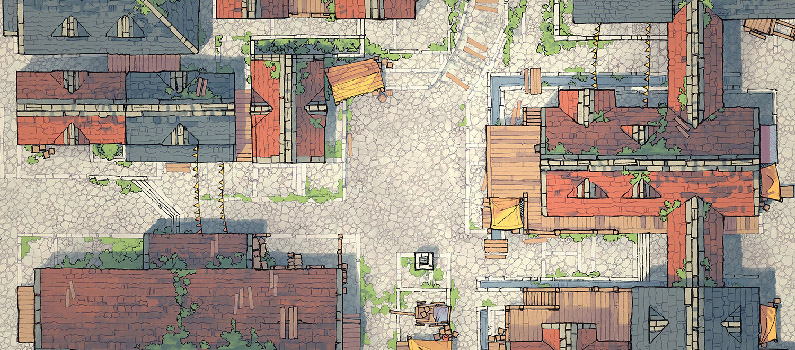 I've been meaning to draw a map of this sort for a long while now! A sizeable city scene, that is. This one should fit the bill, and has plenty of room to maneuver both in the streets below and the rooftops above.
The color scheme is a vibrant, sun-baked one suitable for an optimistic, thriving community. The yellow tents and buntings hint at festivity, and surely there is a lot of fun to be had here for an adventurer.
The "Transition" map variant combines with:

Do you have plans for this Town Center, or one of its variants below? I'd love to hear about them in the comments!
Subscribe for More
We put out new content like this almost every week! If you'd like to keep up, here are all the ways that you can do it, be it on social media or with our email newsletter:
Download the Town Center Battle Map
You can download the digital files below, where you'll also get an opportunity to support me for my work. Thank you! It's thanks to you that I can keep making these maps and assets. 🙂
We will deliver the download links to your email address. You can choose which pack you would like below.
We can offer this base pack for free thanks to our generous Patreon supporters
For exclusive map variants and even the PSD files, consider joining the amazing community that makes these maps possible: