As promised, this is the release of the Mansion Furniture Tokens, paired with a an extra-spooky, fully furnished Haunted Mansion!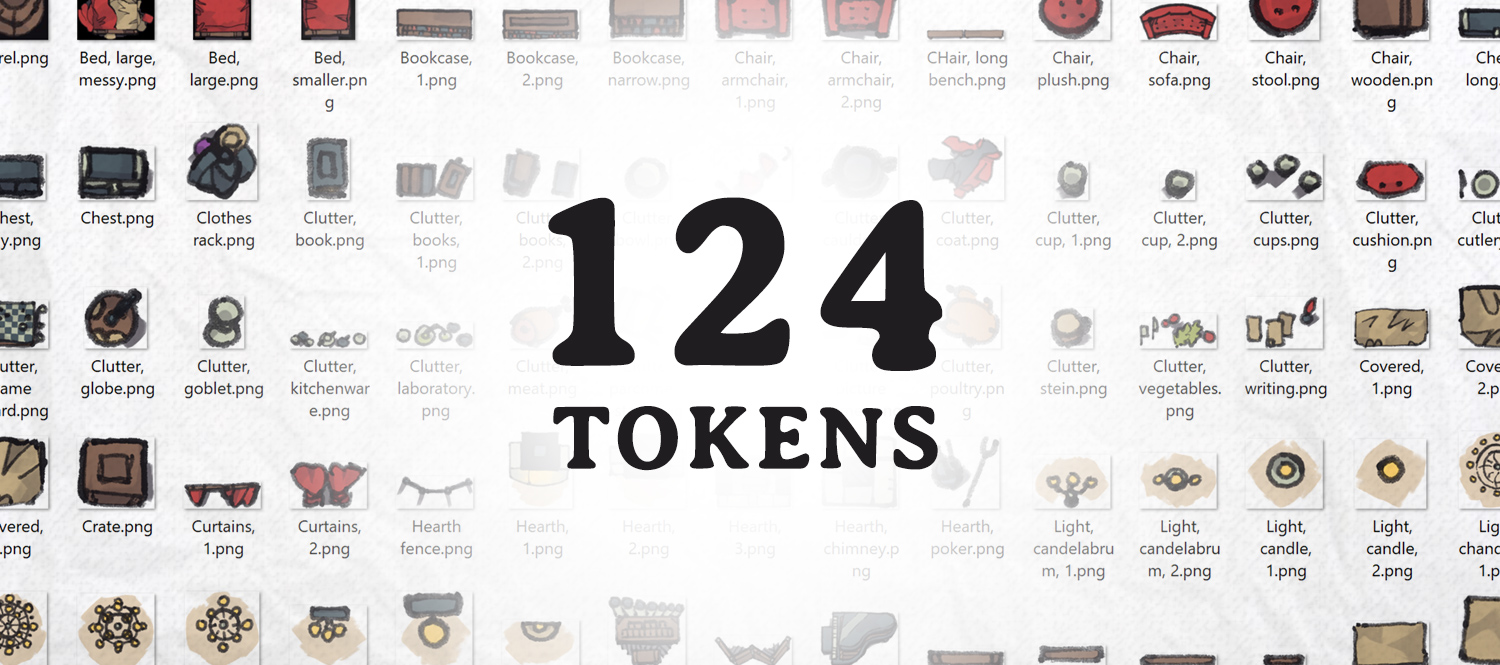 I spent an entire half-day cluttering and tweaking the Mansion, and I think that the result is suitably grimdark and haunted-looking. As you can see, this abandoned home features a dining room, library, and a drawing room on its first floor. On its second, bedrooms, a study, and a trophy room.
There's certainly a lot of ammunition for a poltergeist, or hidey-forms for mimics! Even if it's completely uninhabited, there's secret rooms and fun trinkets to be found. I'm certain your players will enjoy.
This work is licensed under a Creative Commons Attribution-NonCommercial 4.0 International License, thanks to our generous supporters. If you would like to use this map commercially, please contact me 🙂
---
These are all free to download thanks to Patreon supporters such as:
Owen Eli Cook, Patrick O'Hagan, Nicholas O'Sullivan, Michael Scartaccini, Sam Wise, Jain Deaux, Dantemagnum, Matt C. @mc_momo, Brian Barron, dmslayer, Chris Logan, Joel McKinnon @joeliemckinnon, Sheenariel @Sheenariel, Cansin Akcasoy, James Ball, Joshua Renz, Jeff Sorensen @DelugeIA, Austin Auclair, Moritz Fornoff, Felix Jongleur, Stephon Mikell, eddy zrout, Sam Mean Man, Håkon Eirik Grønlien, Rickard Thernlund, Matthew Kammes, Julien Therrien, Wilhelm Lehnhardt @3mporio, DawnforgedCast @DawnforgedCast, Ronin, Edwin Bryer, Poptard, Ty Hajduk, m00am, Tyler Crompton, Tyrian @its_tyrian, FreedomXIII, RoninDude, Capela, Ryan, Ashfall Art @Ashfall_Art, Tiana, Dawnbright., Jake Raiju, Jeanette OB, Danny Mendoza @dannyrmendoza, Joel Quadko McIntyre, Peter Fox, Tad Bumcrot, Thomas A Hardy, Bruce McDonald, evilhomer10 @evilhomer10, Allin Knight, spookyrumba @spookyrumba, Justin Hunter, Zachariah Bazeley, RiddleJacks, Caleb Longshanks Lee, Jonathan Petersen, drag drag, Brittany Cole, Rachel, Stephen Perkins, Jamieson Mockel, Calvin Clark, Zachary Robinson, Robert Cater, Ian Sheridan @iansheridan, Jonas Kotyra, Maciej Stachowiak, Jens Nielsen, Arcknight @arcknightgames, LeK's Play @leksplay00, Jordan Baker, Dustin K. Miller @geonerd, Amanda Fensch, Justin Foster, Miles Grubbs, Gregory Wallsworth, Paul, Maxime Durocher, Kenneth am Williams, DeathStarJanitor @DStarJanitor, yumpy @yumpyboi, Aidan G, Michael Leimenmeier, David Kerr, Taylor Worthington, Benjamin Millions, Nick Fraker @ikaruwa, Dire Bear Adventuring Company @DireBearAC, Derrick see Hamilton, Kristina Coker, Benjamin Busseniers, Abraham Andrade, Elliott Uribe, Steffen Bensch, taylor eubanks, Annie, Ievgen Kharabet, Idalys Spear, soren, Wim, Gabe Barrett @BGDesignLab, Joe Brooks, Daniel Kolev, Bill Underwood, John Eternal @johneternal, victorgonal @victorgonal, Dylan Bender, Mike Elston, Seyren Windsor, Mister Numbers, Robert Bersch, James Ratcliffe @James_Ratcliffe, TheAussieBrit, Clay, Daniel, oceanicsurvivor, Ian Rawley, Blair, TJ Parker-Young, Jonathan Climas, Weekendswitch, Ryan Bertsche, Elizabeth Diaz, Randy Humphries, Gray, Brandon Thompson, Chris V., Ardis Ramey, Adam Astra, Agnieszka Kaniewska, Broc Abrams, Hayden Walker, Brandon, Kyle Sternad, Christopher O'Brien, YUM-O, Berringer, Lewis Payea, Andrew Smith, Morten Sunde, Wil Sisney, and all my other wonderful Patrons!
---