Hi everyone! After many hours plugging away at it, the Buildings Pack is finally ready. Inside you will find a collection of floor plans, a bunch of compatible roofs (in red AND grey), and a couple of other pieces to customize them with.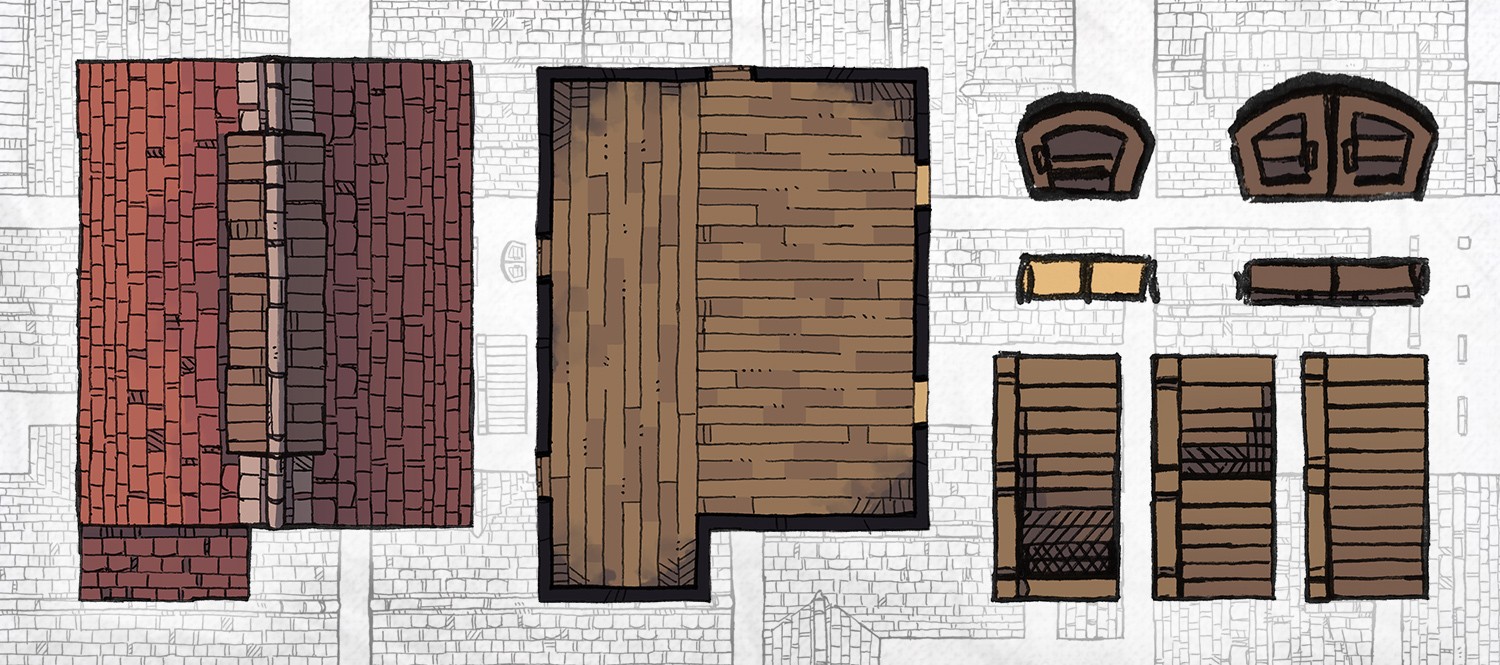 This is the completed version of last month's pre-release, and is built upon the pieces of the Haunted Mansion. With these new roofs and stair/door/wall tokens, I've broken the mansion up into these modest buildings.
This pack is designed to be used alongside the Mansion Furniture Tokens. With these two packs you can theoretically build an entire town. I would love to see what you put together, so please share your creations in the Community tab!
This work is licensed under a Creative Commons Attribution-NonCommercial 4.0 International License, thanks to our generous supporters. If you would like to use this map commercially, please contact me 🙂
---
These are free to download thanks to Patreon supporters such as:
Owen Eli Cook, Patrick O'Hagan, Nicholas O'Sullivan, Michael Scartaccini, Jain Deaux, JR, Sam Wise, Simon Lawes, Matt C. @mc_momo, Dantemagnum, dmslayer, Brian Barron, Chris Logan, Joel McKinnon @joeliemckinnon, Felix Jongleur, Stephon Mikell, Sheenariel @Sheenariel, Cansin Akcasoy, James Ball, Joshua Renz, Moritz Fornoff, Austin Auclair, Jeff Sorensen @DelugeIA, eddy zrout, Ronin, Edwin Bryer, Håkon Eirik Grønlien, Trung Duong @untrung, Ty Hajduk, D. Hunt @CanjeStudios, Rickard Thernlund, Julien Therrien, Matthew Kammes, Wilhelm Lehnhardt @3mporio, Tyrian @its_tyrian, DawnforgedCast @DawnforgedCast, Poptard, Capela, Steffen Saldsieder, m00am, RUNEHAMMER @HankerinFerinal, Jeanette OB, Danny Mendoza @dannyrmendoza, Joel Quadko McIntyre, Tyler Crompton, Michael Reading, FreedomXIII, RoninDude, Tiana, Dawnbright., evilhomer10 @evilhomer10, Ashfall Art @Ashfall_Art, Jake Raiju, Peter Fox, Zachariah Bazeley, Tad Bumcrot, Thomas A Hardy, Bruce McDonald, DavidUm, Robert Cater, Ian Sheridan @iansheridan, Allin Knight, Justin Hunter, RiddleJacks, Caleb Longshanks Lee, Jonathan Petersen, Maciej Stachowiak, spookyrumba @spookyrumba, PrintableHeroes @PrintableHeroes, Rachel, drag drag, Dustin K. Miller @geonerd, Stephen Perkins, Jamieson Mockel, Calvin Clark, Zachary Robinson, Maxime Durocher, Drewbot, Jonas Kotyra, Jens Nielsen, Arcknight @arcknightgames, Michael Leimenmeier, Jordan Baker, Justin Foster, Amanda Fensch, Kenneth am Williams, Nick Fraker @ikaruwa, Miles Grubbs, Gregory Wallsworth, Paul, Hitto @hittosama, Derek Alenius, Linus Falck-Ytter, Aidan G, Camnon, DeathStarJanitor @DStarJanitor, Taylor Worthington, Elliott Uribe, Steffen Bensch, Benjamin Millions, David Kerr, Emily Forrette, Carissa, Sean Connelly, taylor eubanks, soren, Benjamin Busseniers, Dire Bear Adventuring Company @DireBearAC, Kristina Coker, Dylan Bender, Derrick see Hamilton, Richard StDenis, Sheila Motter-Schuk, Annie, Ievgen Kharabet, Maurice A Trejo Jr, Abraham Andrade, TheAussieBrit, Clay, Hayley Armstrong, Daniel, Jonathan Streeter, Idalys Spear, Wim, John Eternal @johneternal, oceanicsurvivor, victorgonal @victorgonal, Gray, Joe Brooks, Daniel Kolev, Bill Underwood, Gabe Barrett @BGDesignLab, Mike Elston, Blaine Elkins, Seyren Windsor, Brandon, Nik Finch, Ian Rawley, Blair, Mister Numbers, Janner @DJanner3, Ryan Bertsche, Elizabeth Diaz, Randy Humphries, Brandon Thompson, Nick B, Robert Bersch, Jonathan Climas, Weekendswitch, Ardis Ramey, Adam Astra, TJ Parker-Young, Agnieszka Kaniewska, Berringer, Greg Rava, Broc Abrams, Chris V., Hayden Walker, Kyle Sternad, Edvardo Gallegos-ramirez, YUM-O, Lewis Payea, Andrew Smith, Christopher O'Brien, Morten Sunde, Maxwell Edison @SaintSputnik, Andres Santana, Alex Duplessie, Laura, Fernando Wecker, chris mooney, Roberta Coons-Redig, Garrett Gutirerrez, Wil Sisney, Nathaniel Hodges, Robert Morrison, Falka Zireael, Cristhian Vargas, Krang The Imperator, Jesse Bethke, Elizabeth P Shanahan, Paul Pollard, Jules Walther, Kat, Trevor Bowlen, and all my other wonderful Patrons!
---
---